The food and beverage industry has never been here before…
Restaurant closures, trade restrictions, mandatory lockdowns. Each pushed consumers into unfamiliar digital territories. Each lifted ecommerce's tide. None more than fast-moving consumer packaged goods (CPG).
But with fierce opportunity comes fierce competition.
"Only the largest market players like Alibaba and Amazon as well as established offline retailers can afford to conquer the food and beverages market through ecommerce."
Are the analysts right? Can direct-to-consumer ecommerce brands compete in the new market? If so, how?
Data, trends, and strategies from the food and beverage industry point the way forward…
Growth Strategy: Maximizing Ecommerce Opportunities
Food & Beverage Industry: Statistics, Data & Growth
What is included in the food and beverage industry?
The food and beverage market consists of fresh, prepared, or packaged food as well as alcoholic and nonalcoholic beverages. It also includes manufacturing, packaging, and distribution to meet consumer demand.
What are examples of food and beverage?
Examples in modern ecommerce typically include naturally-sourced products like juice, water, jerky, plant-based alternatives, and other edible, eco-friendly products. Sustainable packaging, safety measures, and transparent manufacturing fill the current direct-to-consumer food and beverage landscape.
How Big Is the Food & Beverage Industry?
Already a $435.3 billion combined market in 2021, worldwide revenue is expected to increase from $506.3 billion this year to $856.9 billion by 2025.
Like other verticals, 2020 saw a massive shift to online purchasing: a 51.6% year-over-year (YoY) increase for food and 39.3% for beverages.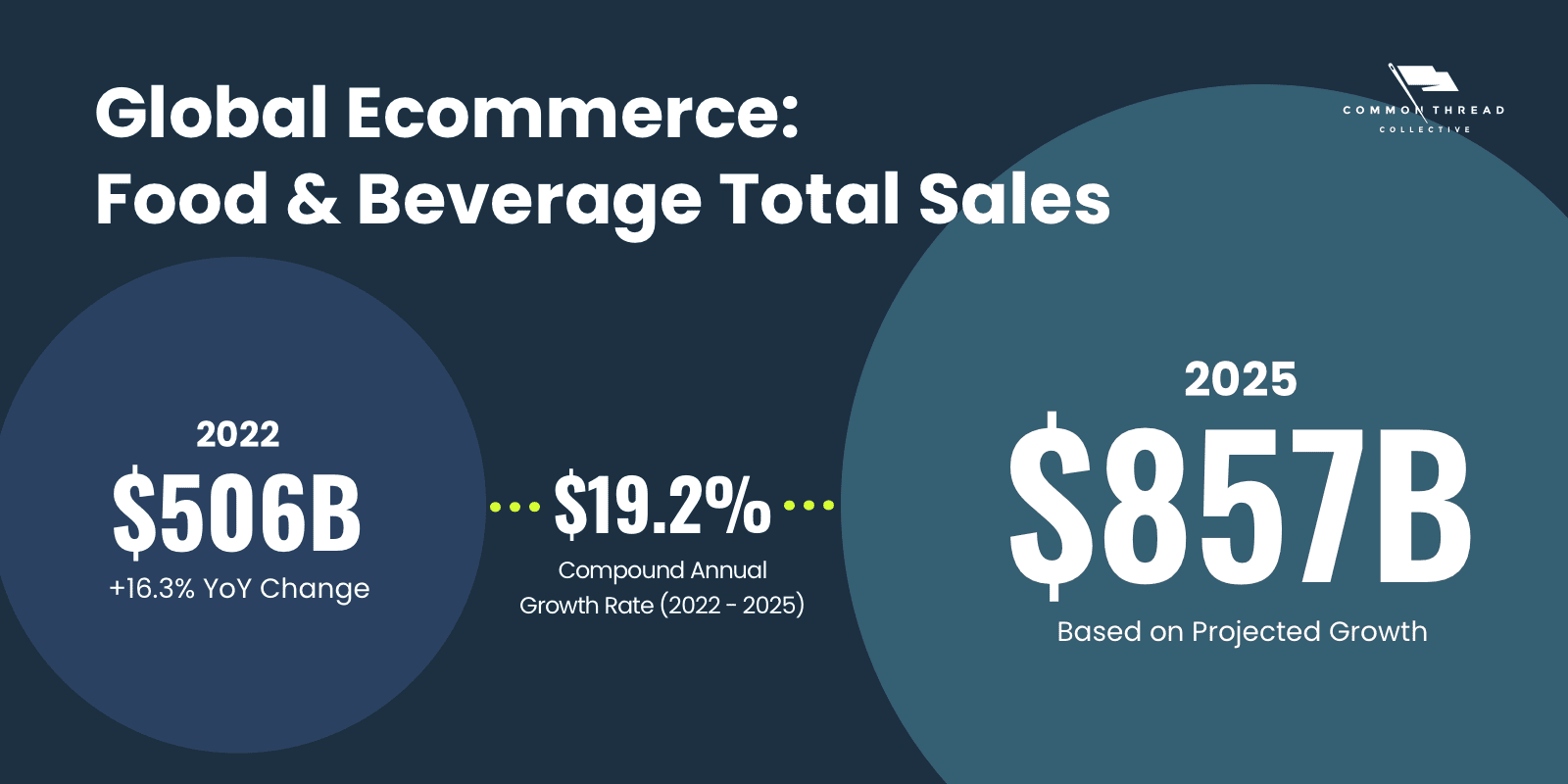 Unlike saturated segments, food and beverage's three-year compounded annual growth rate (CAGR) will remain steady at 23% and 14% respectively. Compared to verticals like the online fashion industry at 11% or beauty and cosmetics at 12%, the future for ecommerce brands selling consumables is bright… though not without challenges.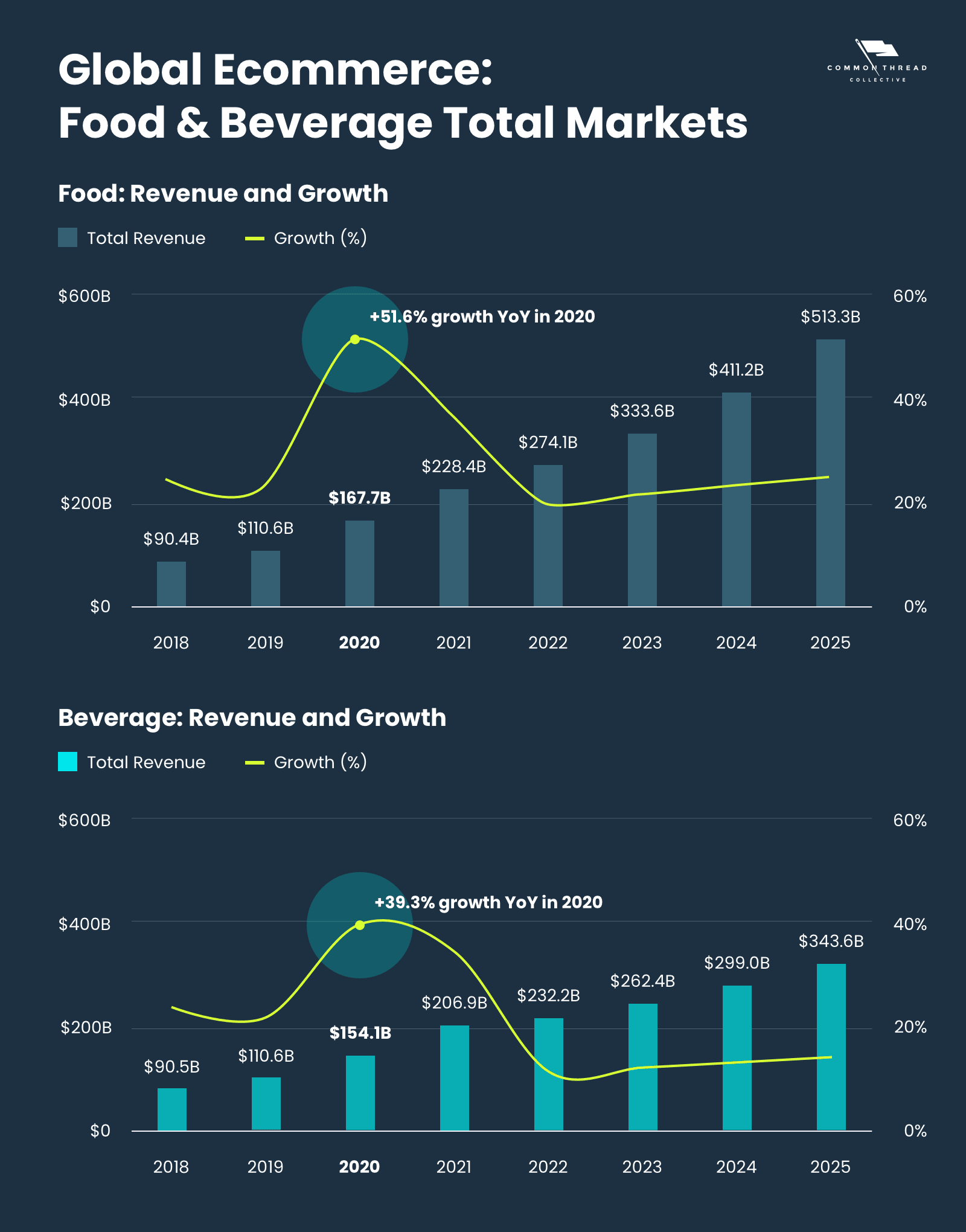 Global Opportunities in the Food & Beverage Industry
Of the top five food categories worldwide, confectionery and snacks tower above the rest. This is nothing new.
If previous recessions taught us anything, affordable comfort foods thrive in stress-induced conditions. Likewise, they lend themselves readily to online purchases.
More telling, four-year revenue growth in all food categories but one will exceed 2022's total sales. That's not merely category value but expected revenue gains alone. In contrast, the same meteoric rise is true in only one beverage category: non-alcoholic drinks.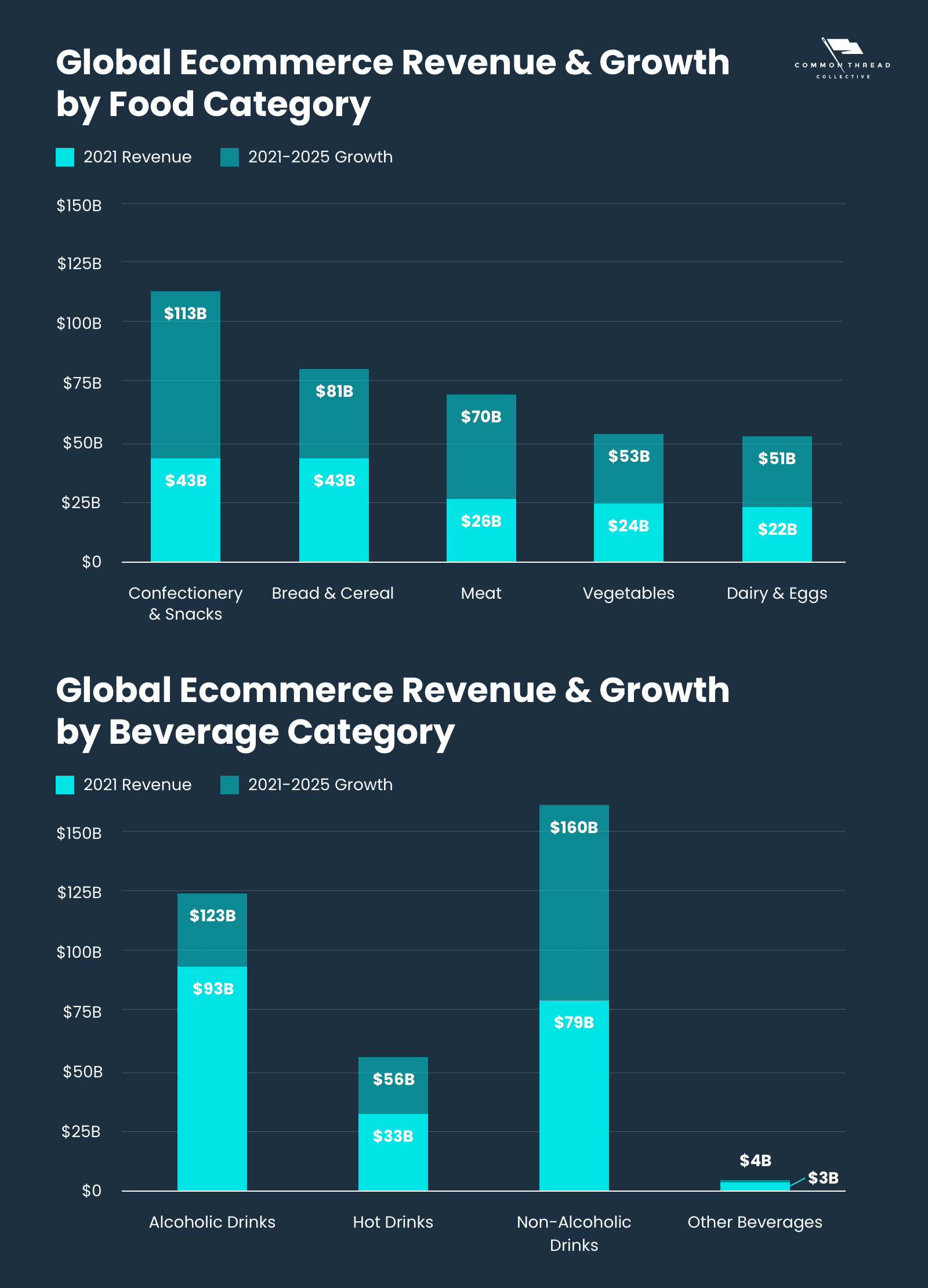 Stacking YoY growth rates by category reveals three trends we'll explore in the next section.
First, 2020 marked a lasting step-change in shopping behavior. Second, non-alcoholic beverages will continue to outpace other drinks. And third, YoY percentage increases hide a fundamental expansion in total addressable market (TAM) — particularly as the number of online consumers compounds up and to the right.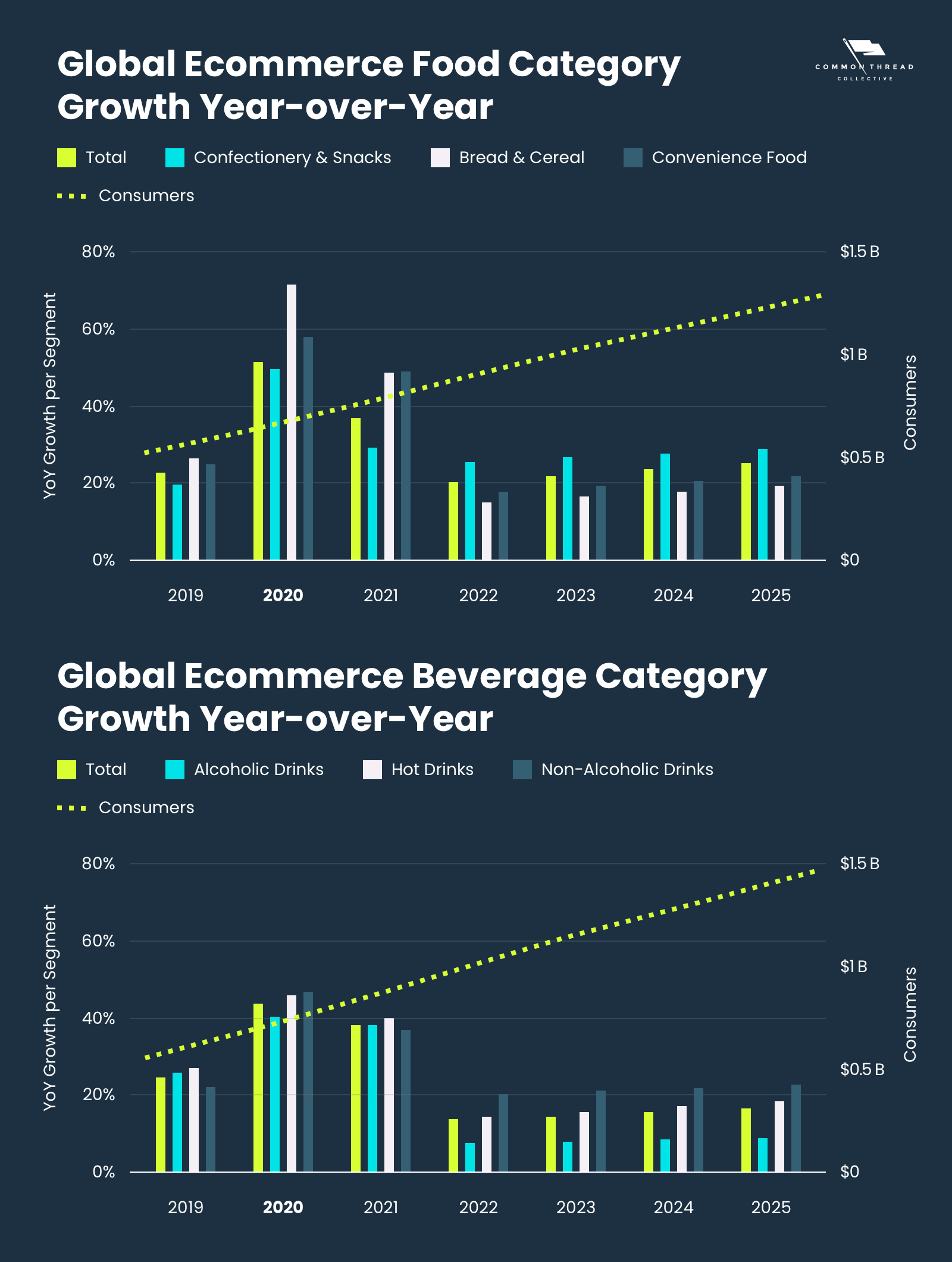 Where Is Food & Beverage Growing?
Breaking total sales out by country, China owns the lion's share with the United States (US) in second by a whopping $49.6B difference.
Of note are the percent changes in growth. Sudan leads the pack alongside other developing nations. Has the West dried up? Far from it.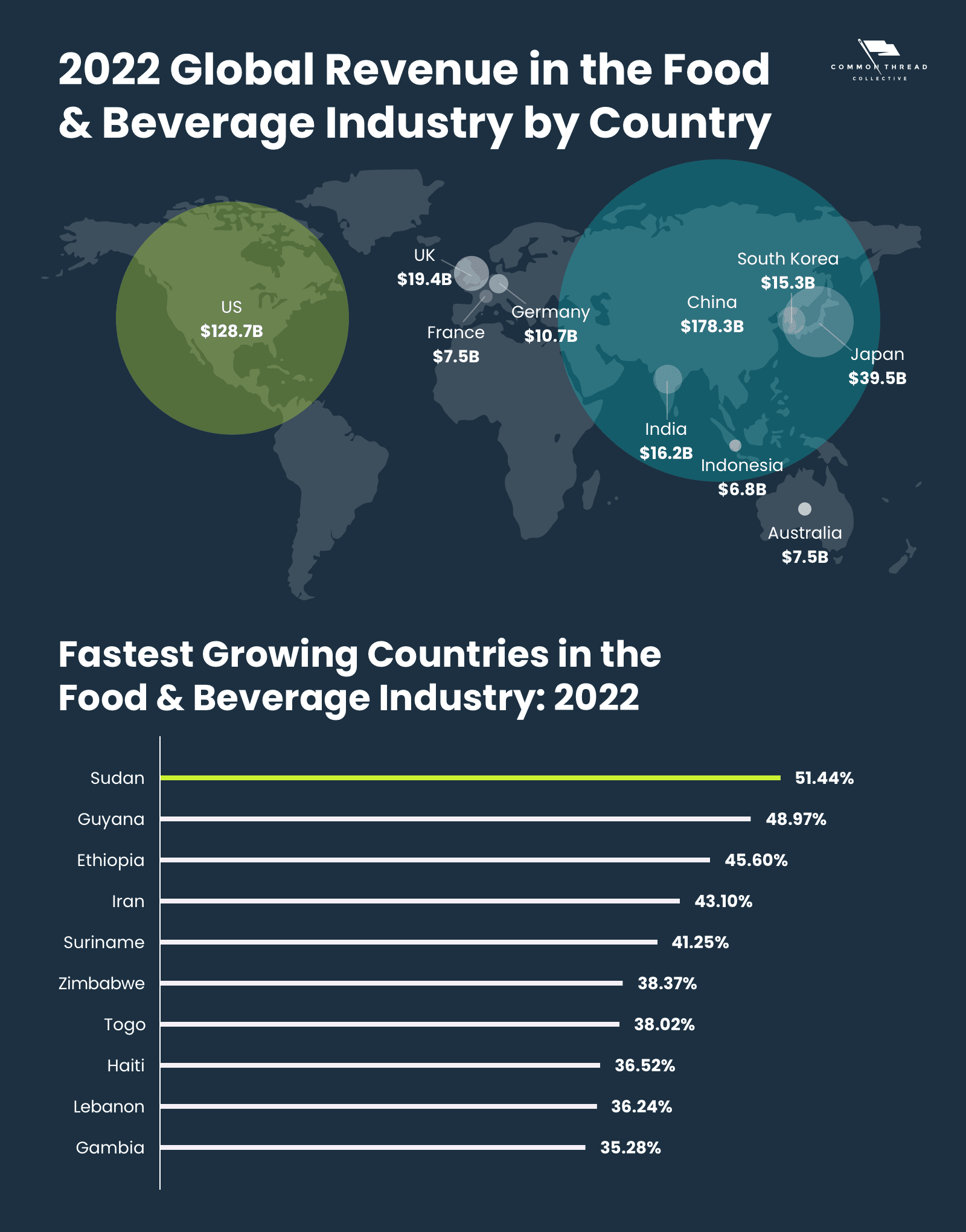 Shockingly, in terms ofnet-new dollars, the US ranks number one in 2022 and for five-year projected growth.
Again, this is in stark contrast to other verticals — not only fashion and beauty but also home furnishings, personal health, and the pet industry.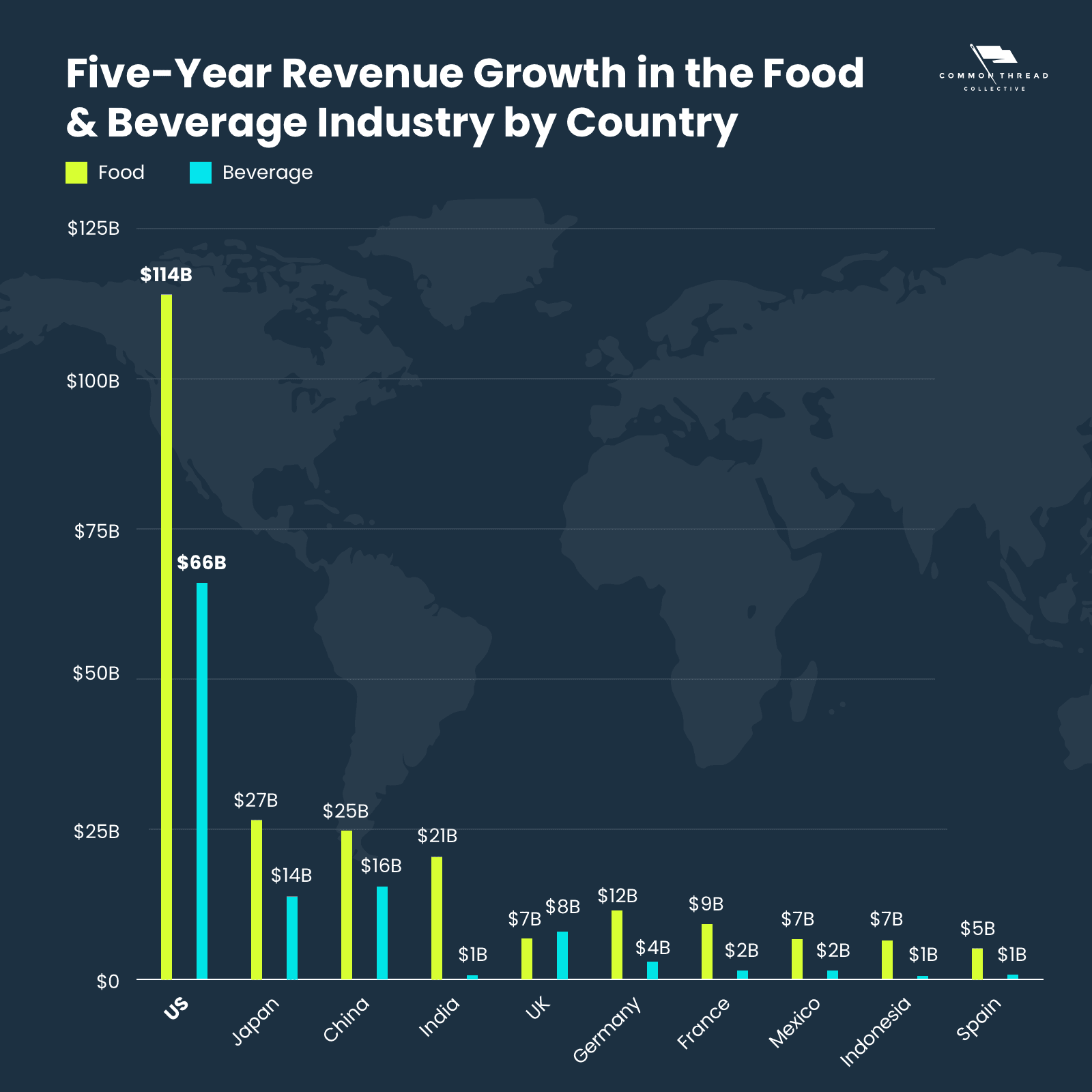 Average revenue per customer in all categories will continue to climb, with steep increases from 2022 through 2025 overall.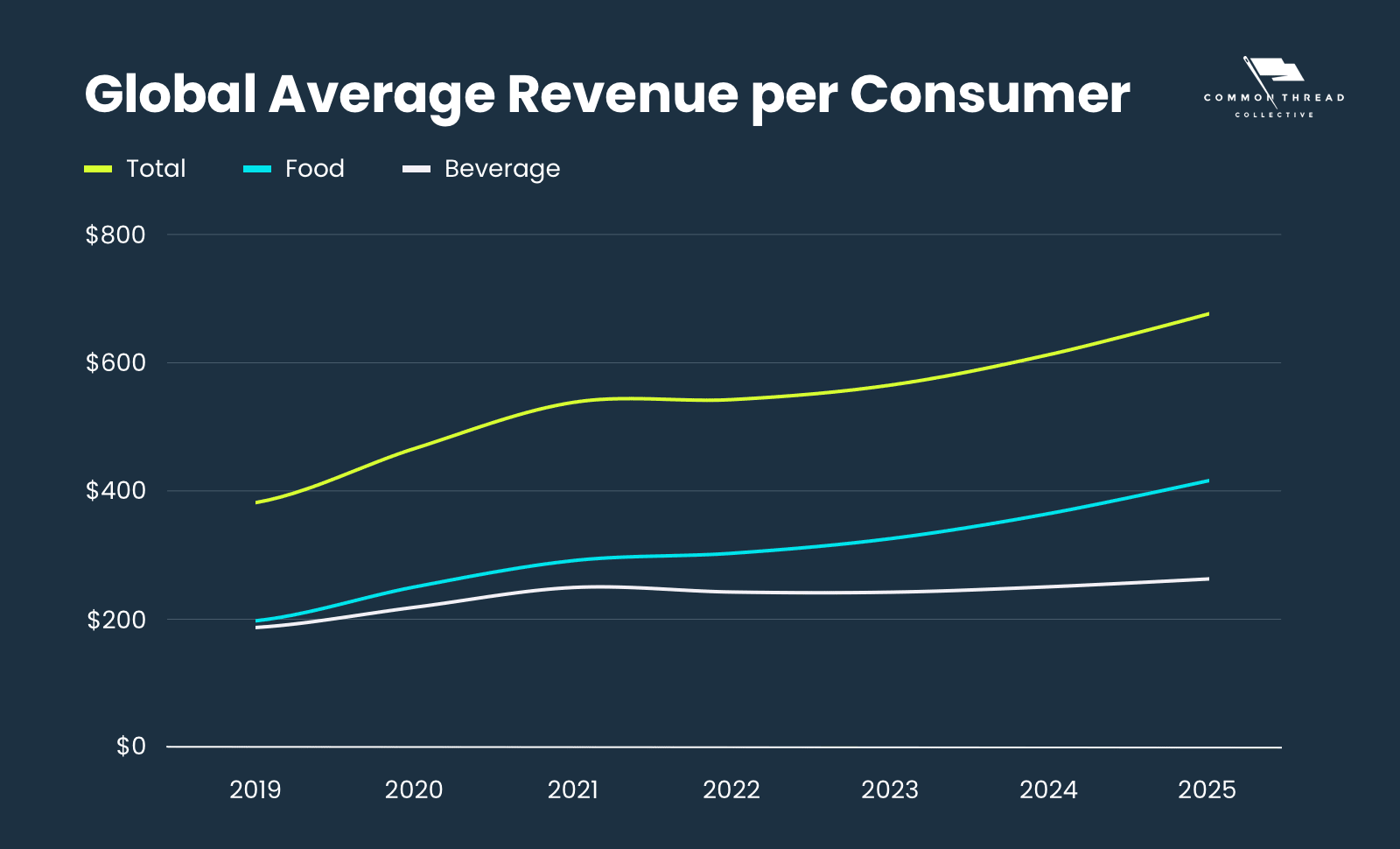 In North America, the pandemic awoke a sleeping giant.
Before COVID-19, ecommerce revenue for the food and beverage industry was humming along at amoderate 15.6-15.9% YoY growth rate. Having experienced its potential, projections indicate a stunning 40%+ growth rate over the next four years.
Narrowing in on the US, e-grocery's market continues to climb steadily from 2022 onward.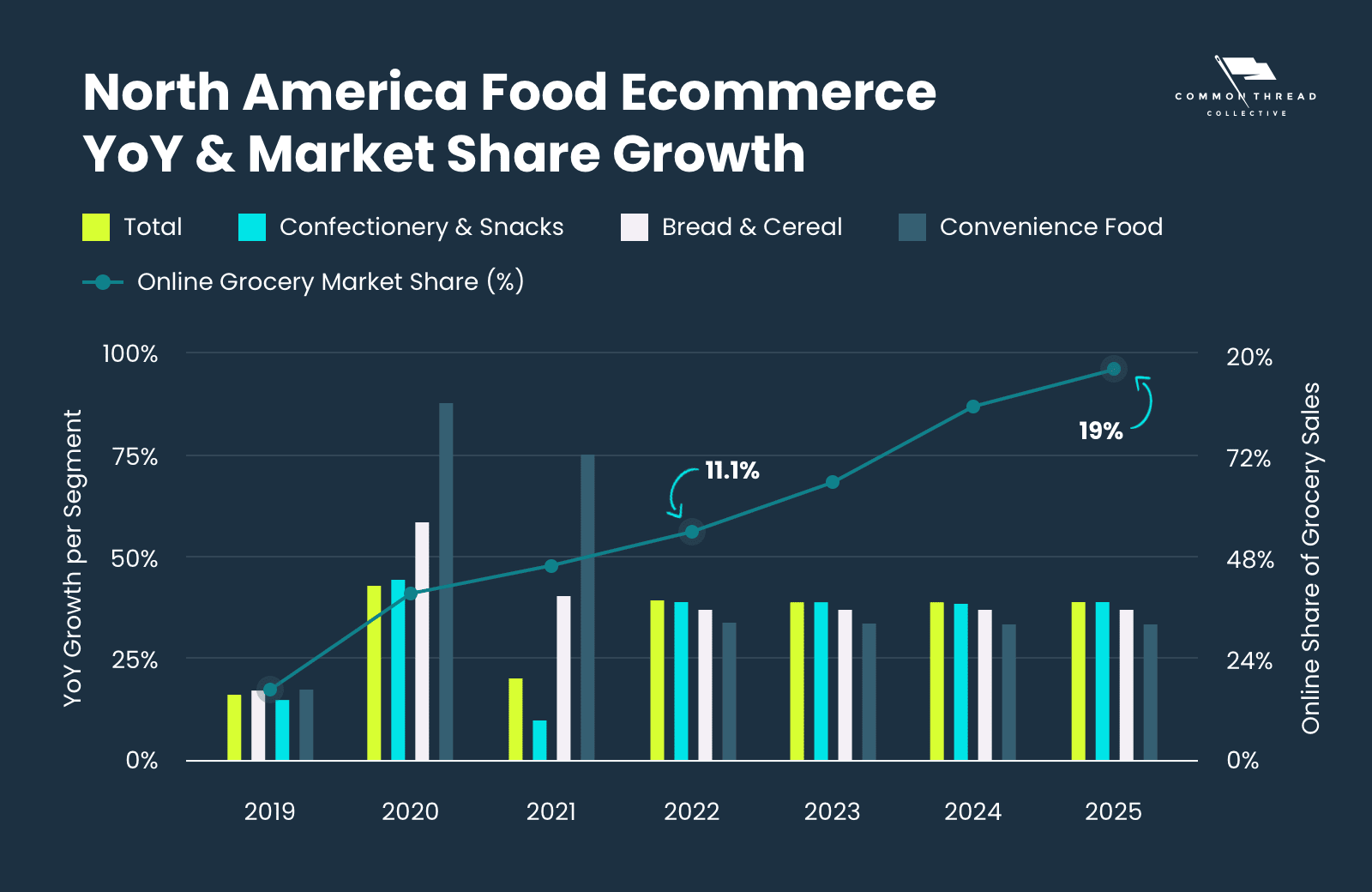 What about retail?
Grocery stores still hold majority claim. After a dip in 2020, stores are on track to correct themselves by 2023. Additionally, beer and liquor stores are poised to take on incrementally more revenue in years to come.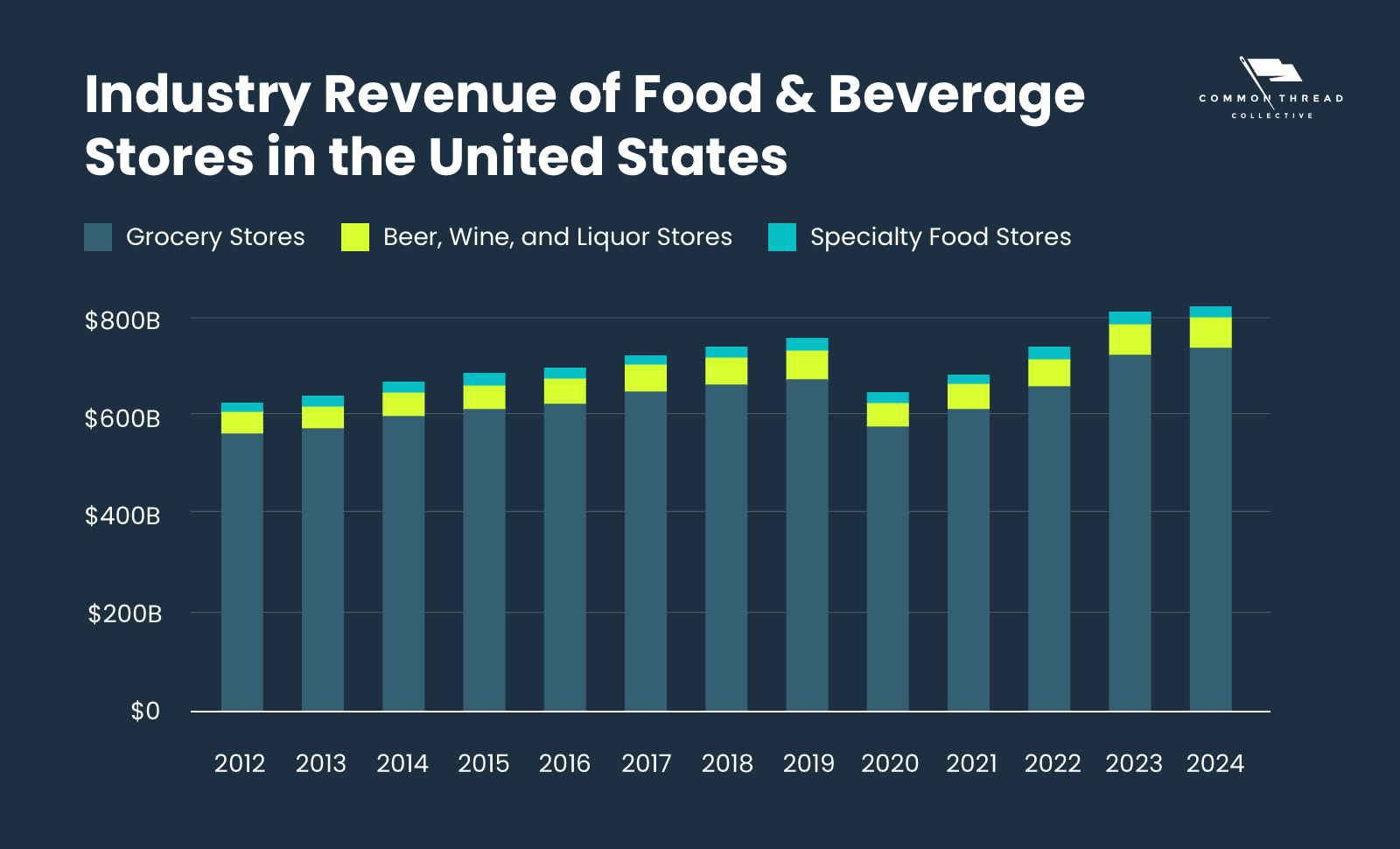 Ecommerce's current and future share of total retail reflect this correction. It also explains food and beverage's position for rapid online gains.
Where other industries had already made inroads… food and beverage is just getting started as a digital staple.

(Video) Survive & Thrive: Post-COVID Food & Beverage eCommerce Marketing and Amazon strategies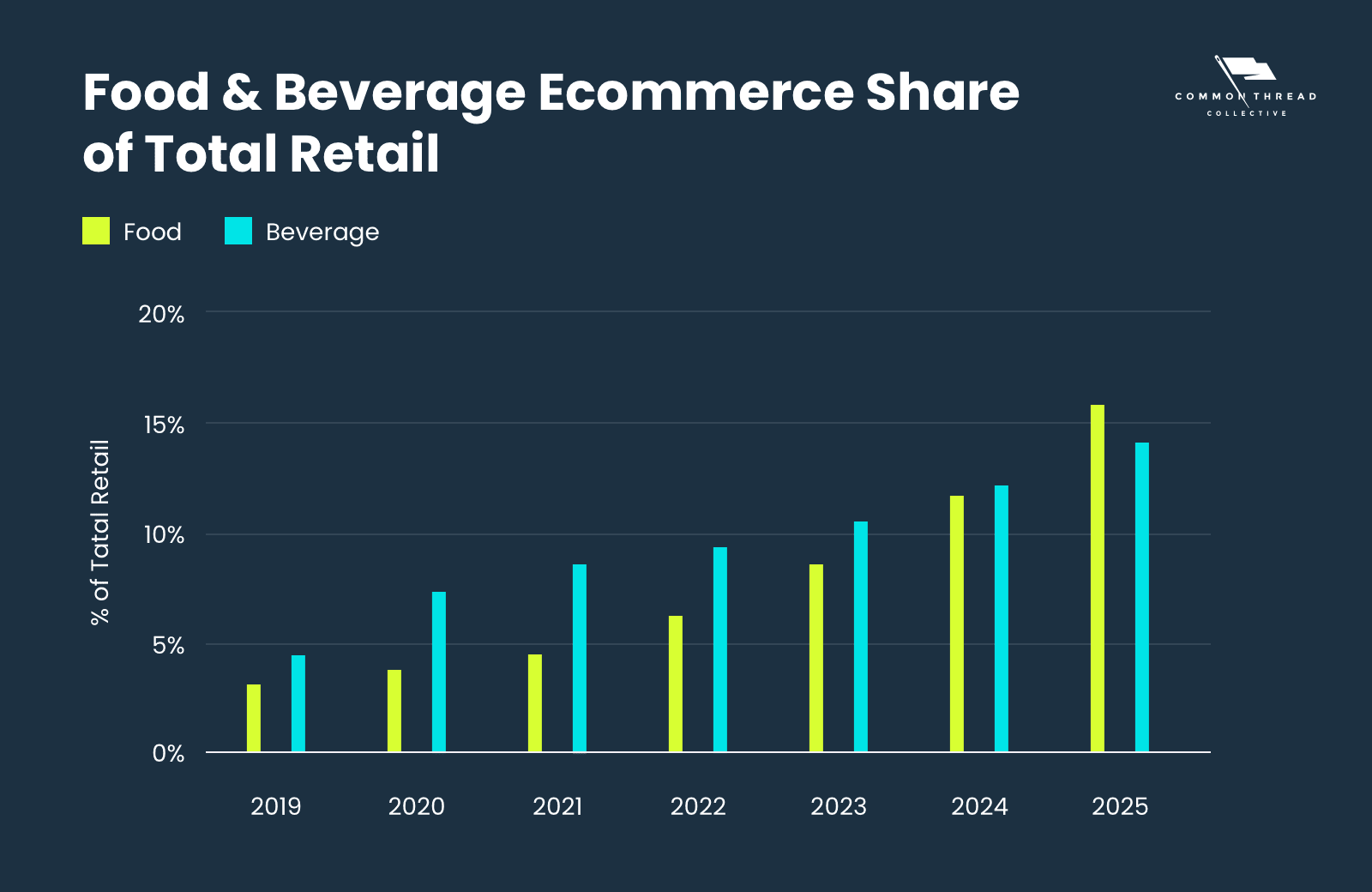 Perhaps the least surprising statistic to come out of the pandemic: Baked goods sales increased dramatically. Everyone turned to comfort food during a time of intense uncertainty.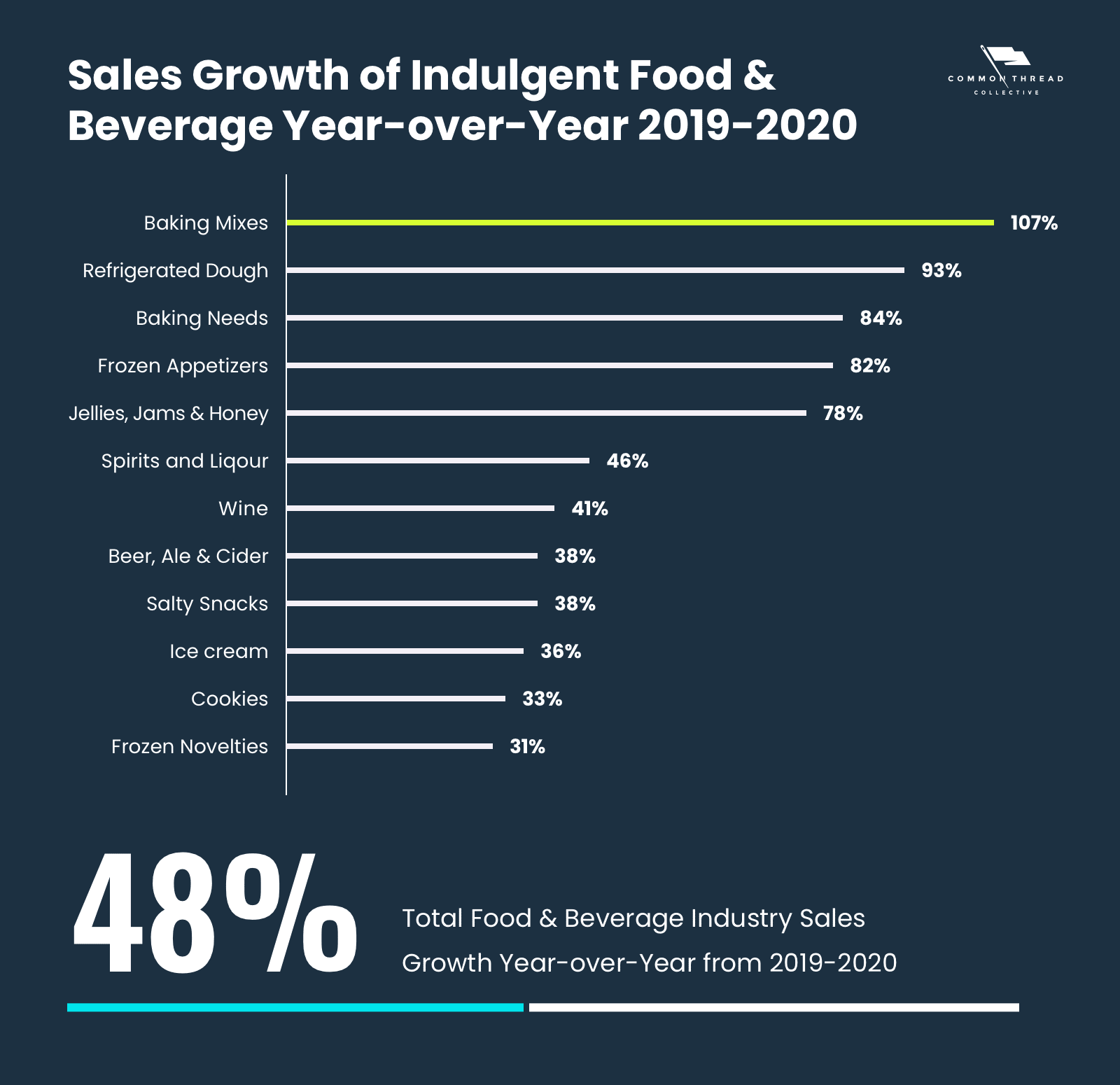 What changed during the pandemic was the number of people who were comfortable purchasing food online. In tandem with more new shoppers, average revenue per user also increased.
More buyers… buying more. From all angles, the demand continues to rise.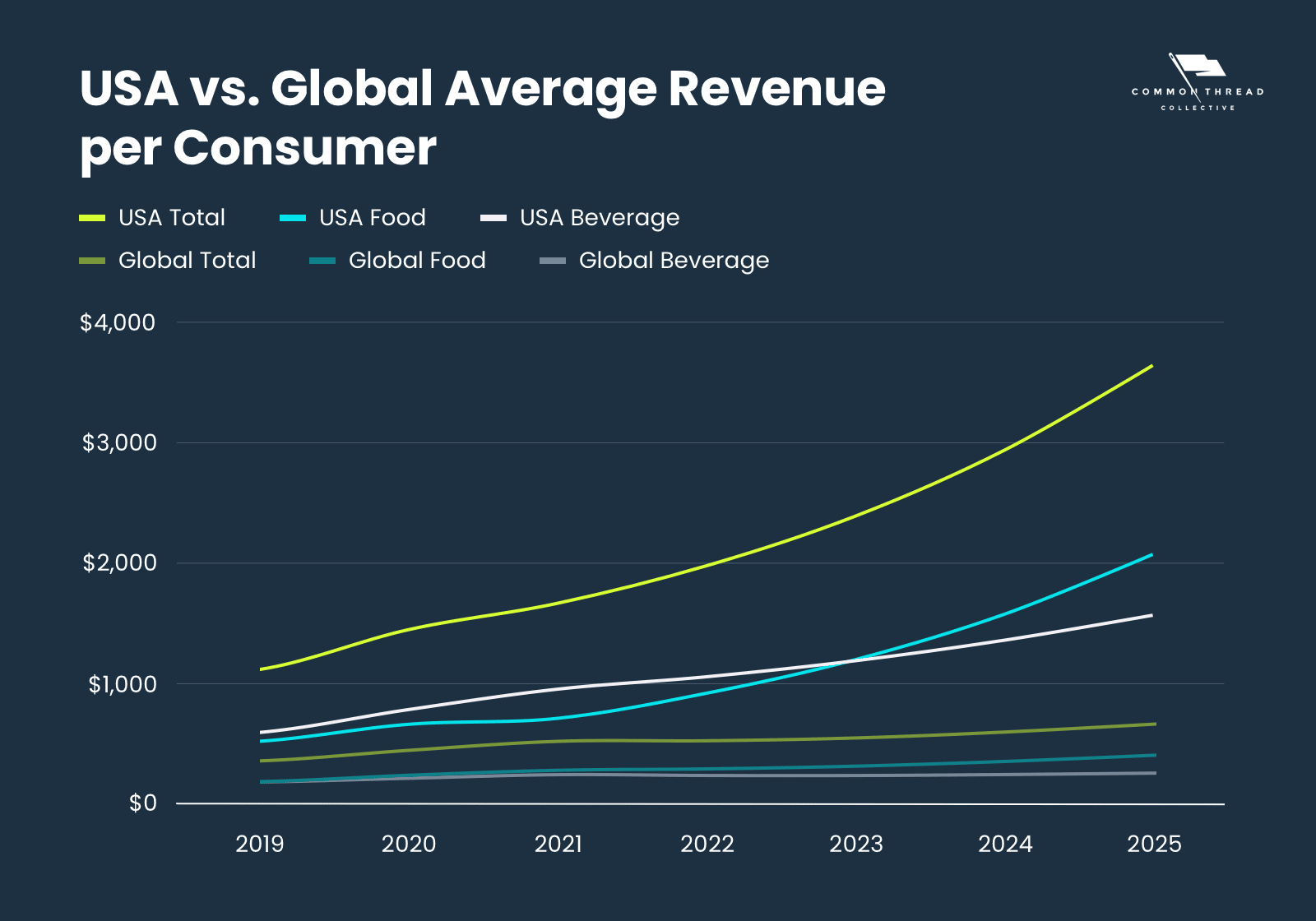 How Can DTC Disrupt Enterprise & Retail Sales?
As consumers migrate online, the challenge for direct-to-consumer (DTC) brands becomes three-fold:
Big box retailers pushing into ecommerce
Legacy brands aggressively adopting DTC channels
CPG manufacturers buying up small or craft DTC companies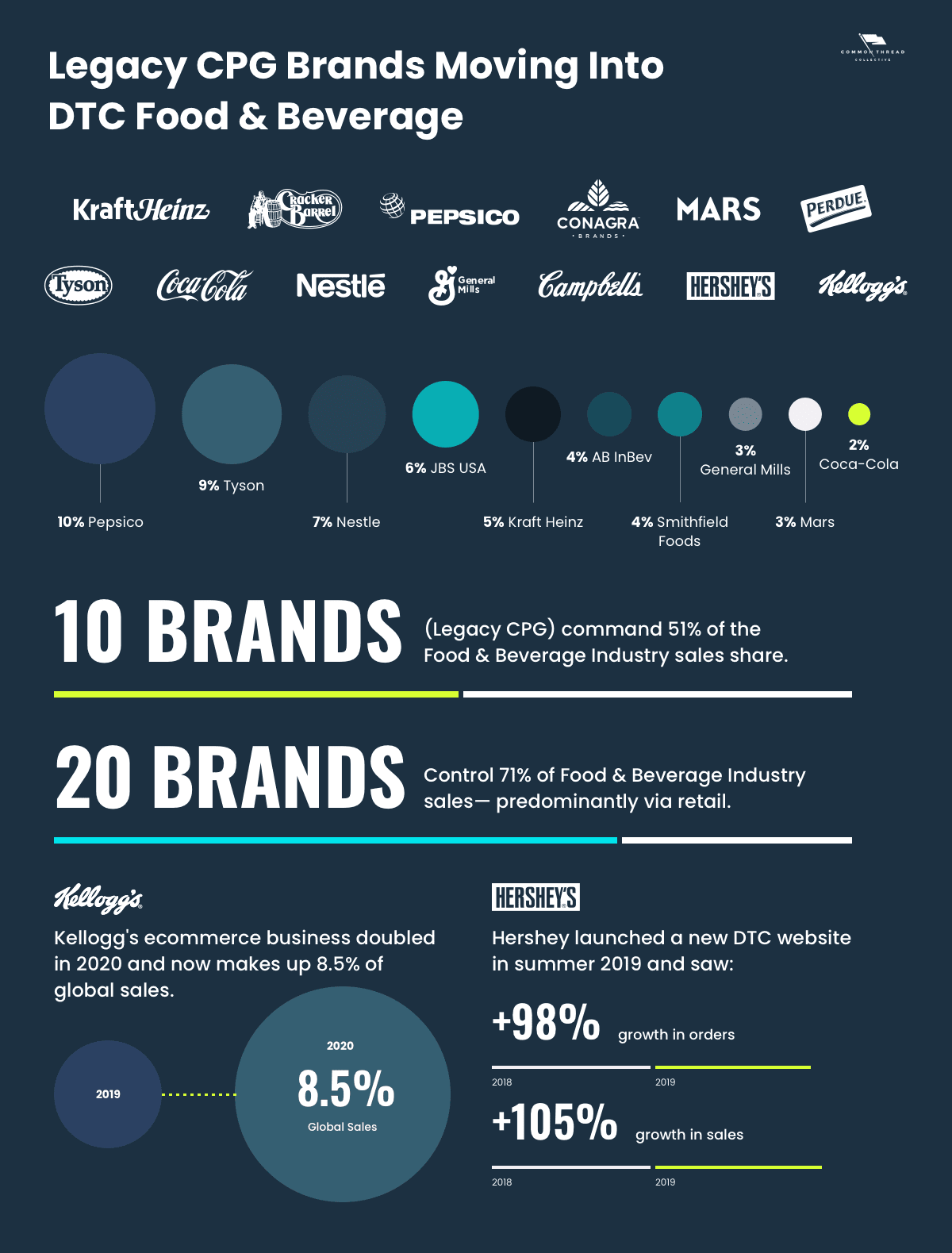 Are the analysts right? Is it true that…
"Only the largest market players like Alibaba and Amazon as well as established offline retailers can afford to conquer the food and beverages market through ecommerce."
We call bulls***.
In reality, legacy brands are pivoting without directly competing with the very stores selling their products.
"DTC brands are growing immensely," says Lisa Mathison, Head of Brand Activation at Hostess Cupcakes, "and make up about 50% of CPG category growth overall. We need to be open to those new ideas. We have to be willing to take little bits of risk."
Online food and beverage has gone mainstream, and independent brands are leading the way.
Large corporations hope to hide their heft by getting into the ecommerce scene in three ways:
White labeling: Existing producer makes the product for a big-name retailer; e.g., Target, Walmart, Costco, Kroger, etc.
Incubating and launching: Manufacturer creates its own brand; for example, Maker Overnight Oats created by Pepsi, Nestlé USA with Wildscape, and Kellogg with Joybol smoothie bowls
Acquiring or investing: Large food corporations wield more purchasing power than craft brands; "natural" products are particularly sensitive to acquisitions, though conglomerates may not follow the same ethos
By tracking how large organizations maneuver DTC growth, we can understand (and even predict) trends shaping the industry at large.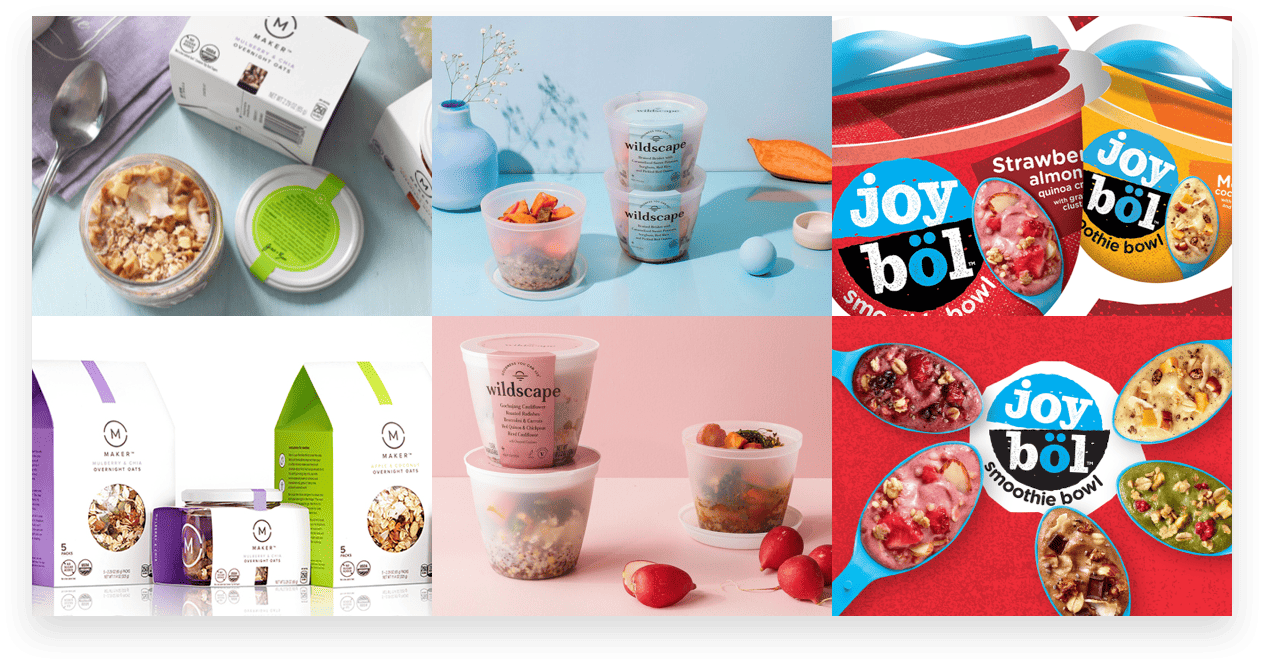 Market Trends: Sustainability, Convenience & Beyond
What is food and beverage marketing?
Food and beverage marketing encompasses a brand's positioning in the market — from awareness to product development to advertising.It revolves around every step of a customer's relationship with your product and company.
What are the top food and beverage trends in 2022?
The top market trends move us further into a conscious culture where people demand more from food products than just a tasty treat.They center on sustainability, the bridge between healthy and convenient, and plant-based favorites.
1. Saving the Planet One Bite or Gulp at a Time
As consumers demand more accountability for our cumulative carbon footprint, the question of sustainability arises. Never has this been more obvious than in the current food and beverage industry.
Everything from recyclable packaging to mission statements founded on transparent food processing has made its way into marketing.
Ecommerce plays a crucial role in deploying that message among tech-savvy and eco-conscious Millennial and Gen-Z consumers.
No DTC brand goes as hard on this mission as Liquid Death. Its motto revolves around "Death to Plastic."
Using extreme imagery, copy, and activism, the Liquid Death marketing team pulls no punches.
In addition to educating customers on the benefits of using aluminum cans, it also donates a percentage of each sale to non-profits fighting plastic pollution and water scarcity.
The brand's playful tone and intense messaging resonate with a jaded adult audience. Rather than pander to its target demographic, it takes an even more extreme stance to lead, not follow.
waterdrop leads its marketing withsimilar focus and donates to anti-plastic initiatives. Consumers demand more than lip service. They expect brands to engage with the real world when making claims to be saving the world.
2. Goodbye Fast Food, Hello Healthy & Convenient
The American desire for "fast food" is alive and well, but we're shifting away from the highly processed, frozen meals and moving into a new healthy-plus-convenient sector.
Even during the pandemic, when many seemed to have all the time in the world, consumers still gravitated to quick and effortless options. Online grocery shopping saw a wave of first-time shoppers and demand for at-home delivery.
You could argue these shopping habits speak to the need to avoid people and cook more meals at home. Nonetheless, it proves the need for affordable, quick delivery options for online grocery sales.
Greenhouse leads its strategy with a straightforward promise to deliver high-quality products to your doorstep.
Brands like Misfits Market and Lemon Perfect leverage their ability to offer both better prices and easy delivery for healthier grocery items. Especially if you subscribe and save.
3. I Can't Believe It's Not Meat!
Customers remain hesitant about buying fresh and frozen foods online.
Enter: Plant-based favorites.
New products in the plant-based space tend to the needs of both eco-conscious consumers and those more comfortable getting less temperature-sensitive products through the mail.
Boobies Superfoods highlights its use of all-natural and plant-based ingredients, targeting the ever-growing segment of health-conscious and busy parents.
"But where do you get your protein?"
The age-old question for vegans. Brands answer it immediately by messaging on plant-based protein alternatives and educating consumers on why they work.
Marketing strategies focus on educating those interested in plant-based alternatives, hoping to lure in meat-loving skeptics in addition to their target crowd.
(Video) The Incredible Logistics of Grocery Stores
Growth Strategy: Maximizing New Opportunities Using One Formula
How do I market my food or beverage business to grow profitably?
According to a study by Accenture, 67% of U.S consumers said they want brands to stand up for social, cultural, and environmental issues.
To be successful in 2022 and beyond, CPGs need to pivot their marketing and customer experience initiatives to speak directly to these three needs:
Sustainable food sourcing, manufacturing, and packaging
Reliable delivery options that meet customers where they are
Healthy and creative options that don't sacrifice ease or portability
How do online retailers capitalize on these factors and measure their success?
Let's break it down using the ecommerce growth formula.

Those four metrics represent the cornerstones ofany digital plan for business growth…
Attract visitors with compelling introductory offers (V)
Convert them using consistent messaging (CR)
Drive long-term profit with subscriptions (LTV)
Overcome the variable costs of delivery (VC)
Attract Visitors with Enticing Offers

Valuable introductory offers mixed with outstanding creative consistently prove effective for attracting visitors to your site. Funneling your efforts into paid social and paid searchremainthe most measurable way to generate a return.
Paid Social
With a product as visceral as food, great creative consists of mouth-watering imagery and an ability to "see yourself" consuming the product.
Golden Steer Steak Company delivers on all fronts. It's selling both a delicious product and an elegant experience. Through its ads, you envision yourself at the table enjoying a juicy, decadent dinner.
To entice its audience, though, Golden Steer ropes them in with a compelling discount offer.
Connecting desirable, tangible imagery with a nod towards price-conscious buyers positions DTC brands well for a social audience.
What about the mechanics behind these ads?
If compelling creative is the art… then placement and optimization is the science.
Scale your efforts around an organized and consolidated account structure. Ad spend and number of SKUs will require expansion overtime, but three cornerstone campaign types should function as a blueprint:
Full Funnel: Prospecting + Remarketing
Dynamic Ad Broad Audience: Prospecting
Dynamic Product Ads: Remarketing Product Catalog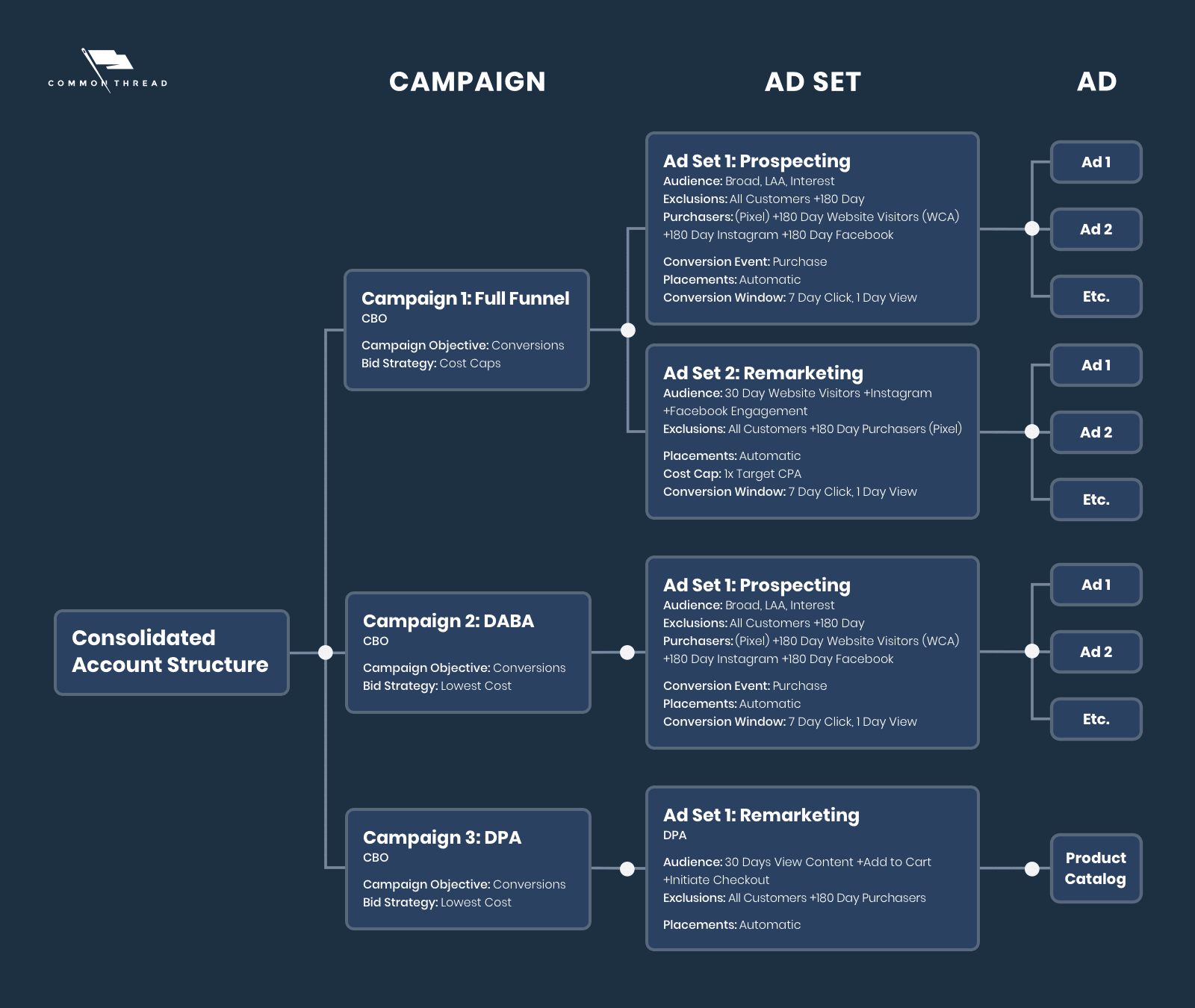 First: Consider the angles that will shape your creative Facebook ad campaigns. What events trigger customers to buy? For food and beverage, it's likely one of three moments:
Seeking a special experience
Seeking good food at fair prices
Seeking good food that's convenient
Using the three examples above, the values to highlight could be…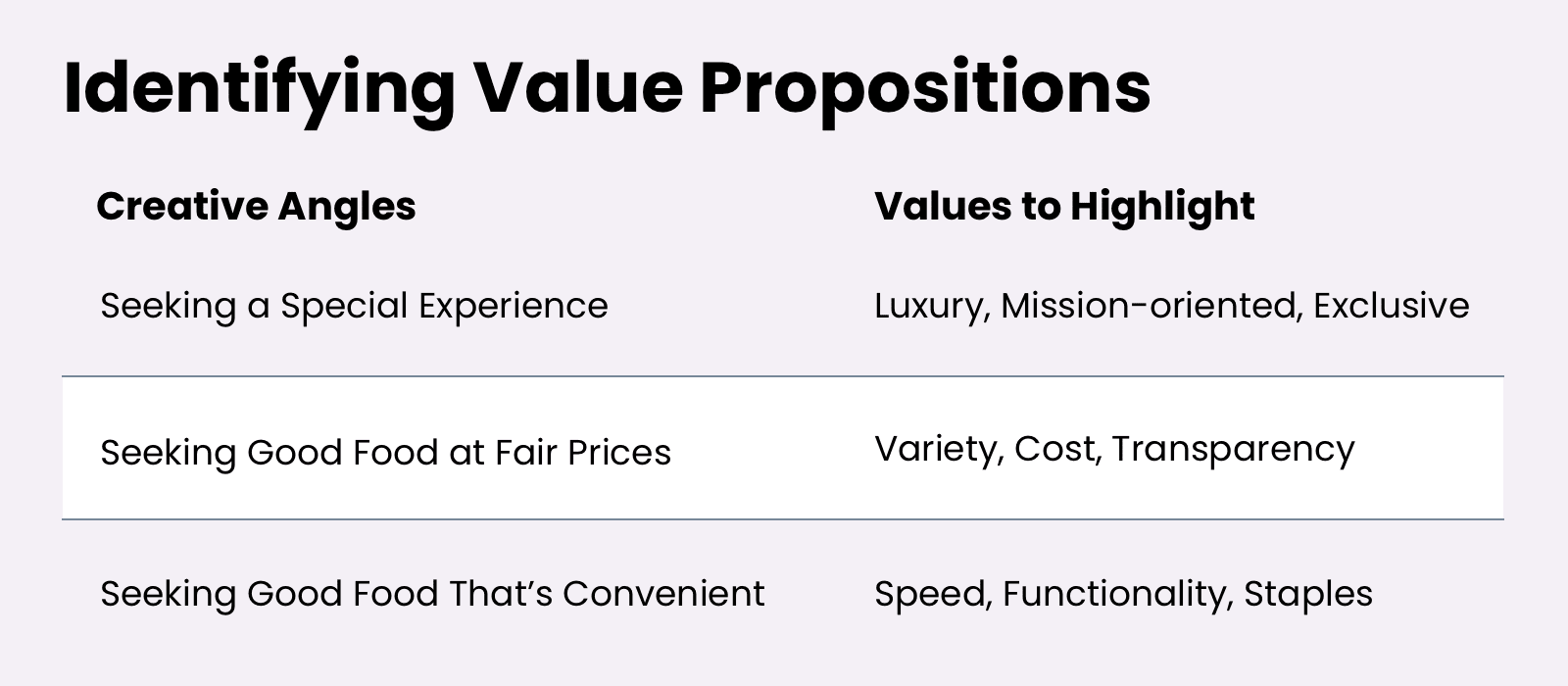 Second: When prospecting, break out your campaigns into customer categories and focus on Dynamic Ads for Broad Audiences (DABA).
As a new-customer version of Dynamic Product Ads (DPA), DABAs allow you to target those with interest in your product, even if they have never visited your website.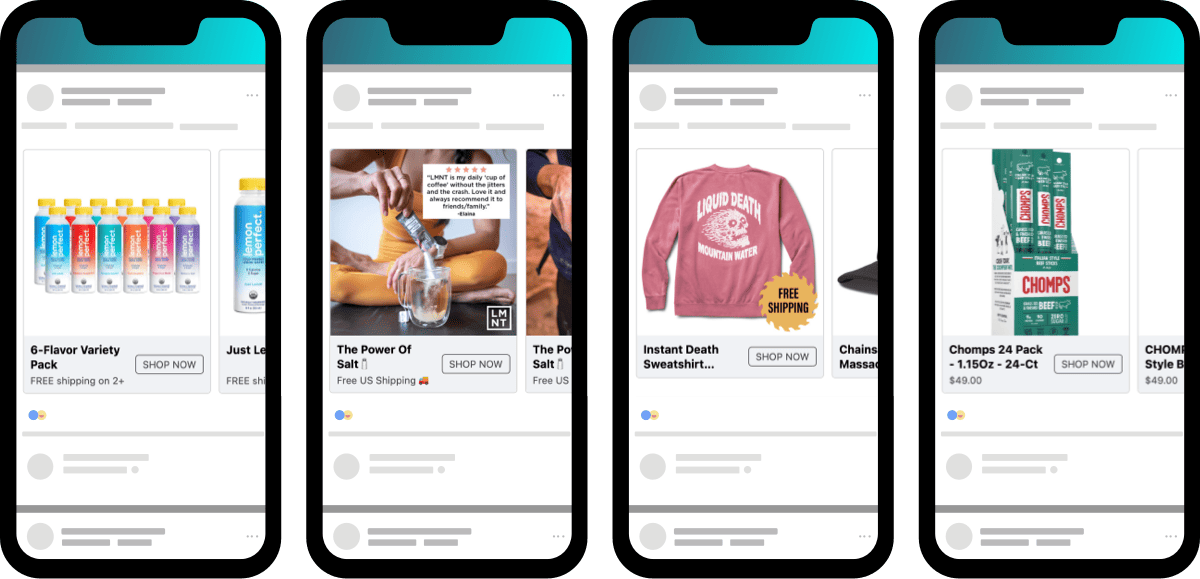 Categorize your products by customer profiles within your target audience for the best results:
Family vs individual
Vegan vs Paleo
Etc.
For ad creative, identify your most popular SKUs by:
First purchase
Repeat purchases
Related or similar purchases
Third: Focus your remarketing strategies on two types of Facebook retargeting campaigns. (1) Special offers or creative strategies based on your most successful full-funnel value propositions; (2) evergreen DPAs driven by Commerce Manager's direct connection to your store's products.
Paid Search
To capture those searching specifically (or tangentially) for products like yours, paid search targets would-be consumers.
Google ads don't necessarily feel as personal or natural as discovery on social media, but the audience is primed to convert.
To catch those searching for keywords like "chomps" and "jerky," paid ads from Thrive Market, Amazon, and Hive Brands for Chomps take center stage.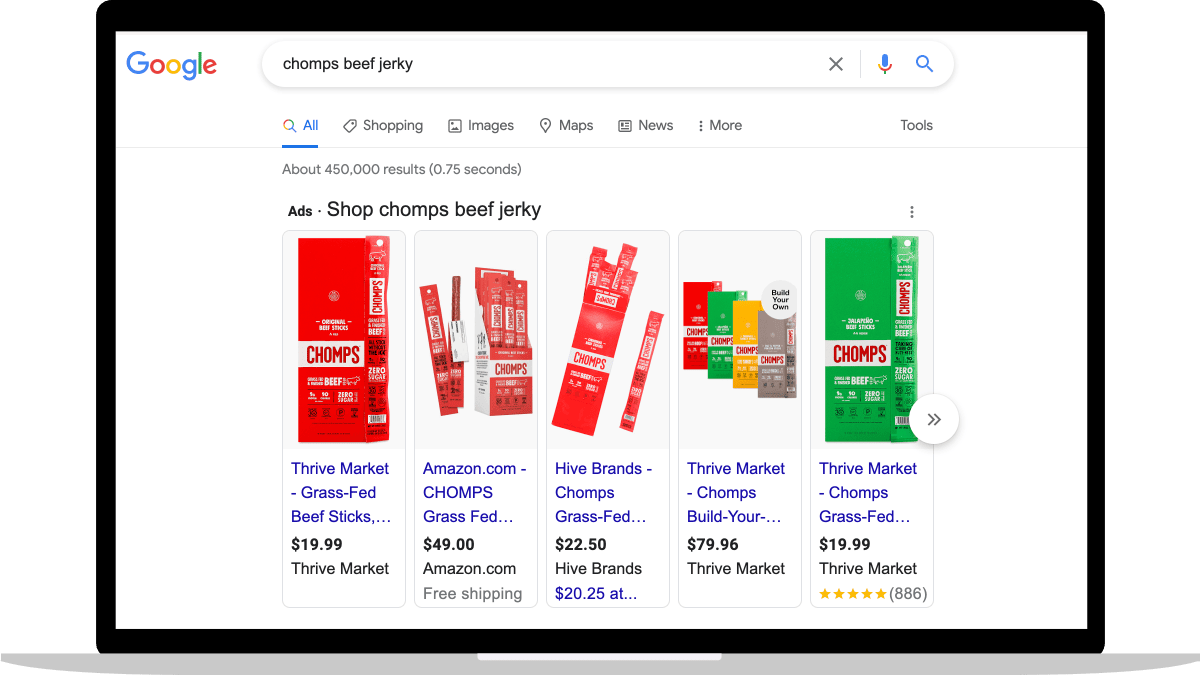 Unlike social media, paid search's divide isn't prospecting versus remarketing; rather, it's branded versus categorical.
Branded search means bidding on brand-name terms or owned-product keywords: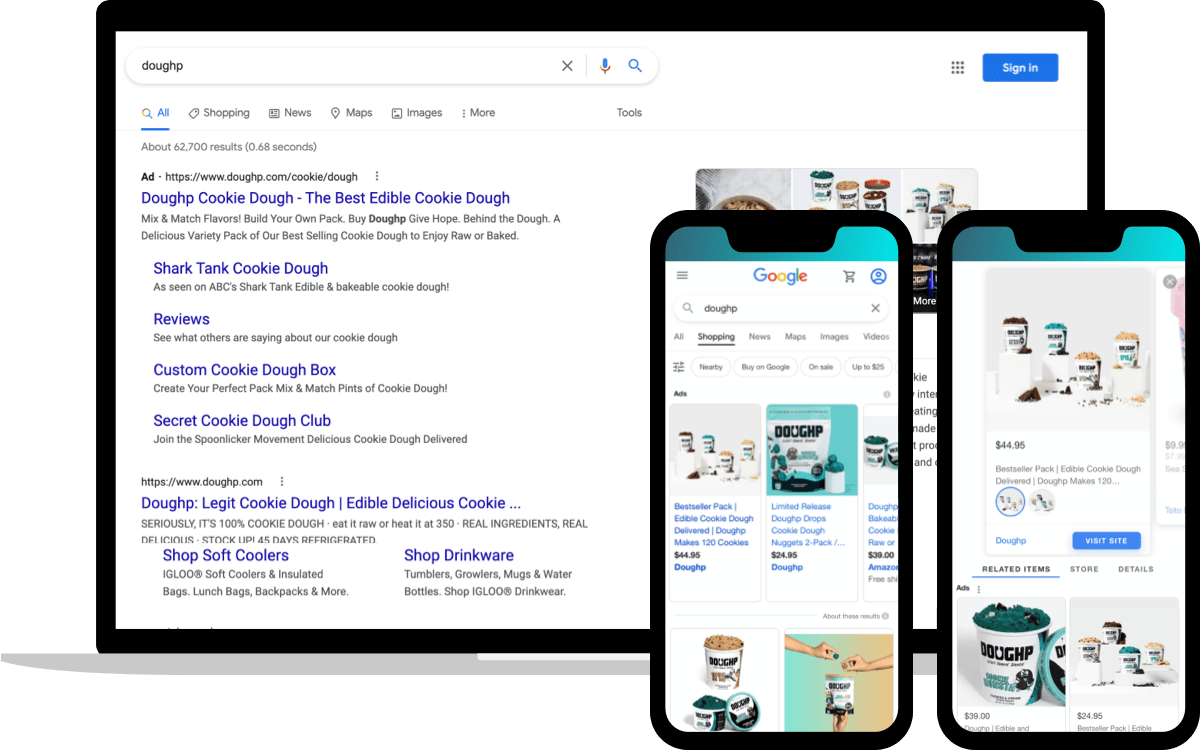 Categorical search targets terms more broadly related to your products. For Doughp (shown above), this would include phrases like:
edible cookie dough
edible raw cookie dough
edible and bakeable cookie dough
buy edible cookie dough
edible cookie dough delivery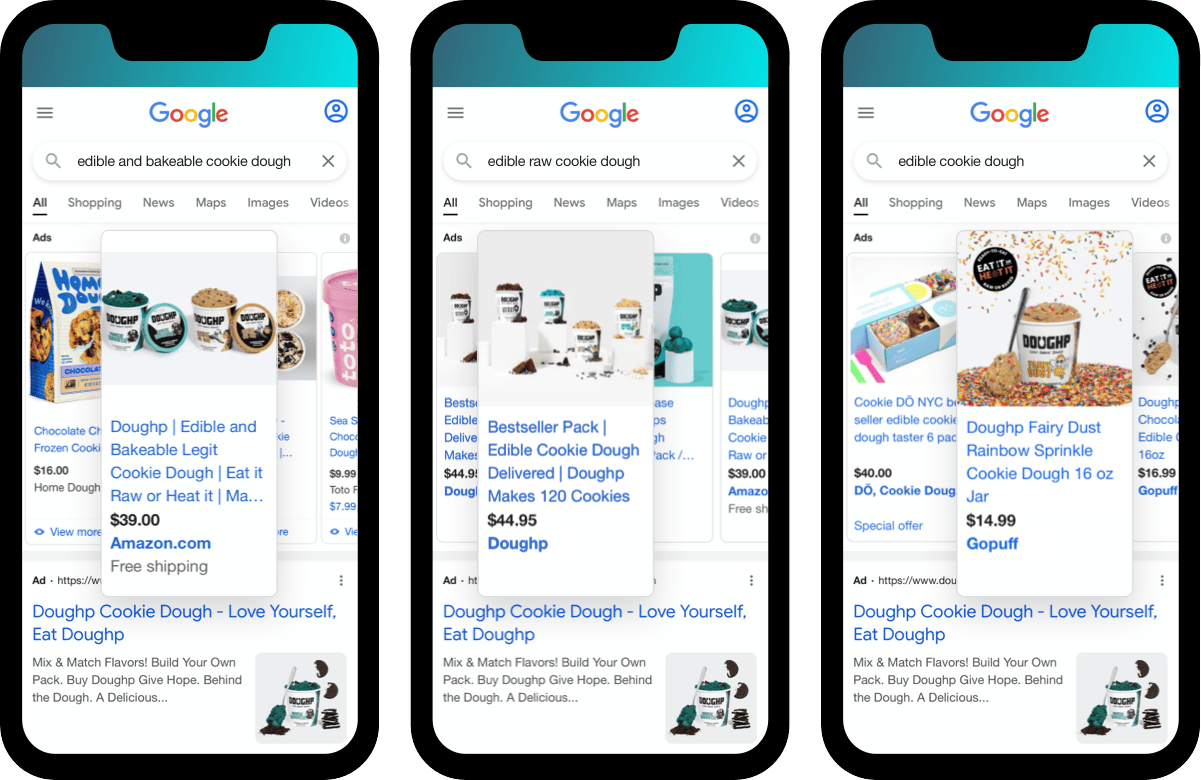 Paid search requires an account structure built aroundspecific budget ranges. Our Director of Paid Search, Tony Chopp,calls it the …
Search Engine Marketing Order of Operations
Brand Search: <10%
Limit to less than 10-15% of total account spend; brand search campaigns should have the highest ROAS in your account.
Google Shopping: >60%
(Video) Recession - Proof Your eCommerce Business - eCom Sellers Podcast ep. 23
Target more than 60% of total account spend. Clean, well-optimized data feeds and consistent product approvals in Google Merchant are the secret to success.
Non-Brand Search: 18%
Use Dynamic Search Ads (DSA) targeting combined with Smart Bidding; search ads often have a lower return than Shopping due to higher CPCs. Aim for less than 20%.
Video (YouTube): 8%
Begin by remarketing on YouTube then turn toward prospecting; mix the two approaches at around 8% of your budget.
Smart Display and Discovery: 5%
Create multiple retargeting touchpoints within 24-72 hours after someone visits, views products, adds to cart, etc. Display Network should hang around 3% and Discovery at 2%.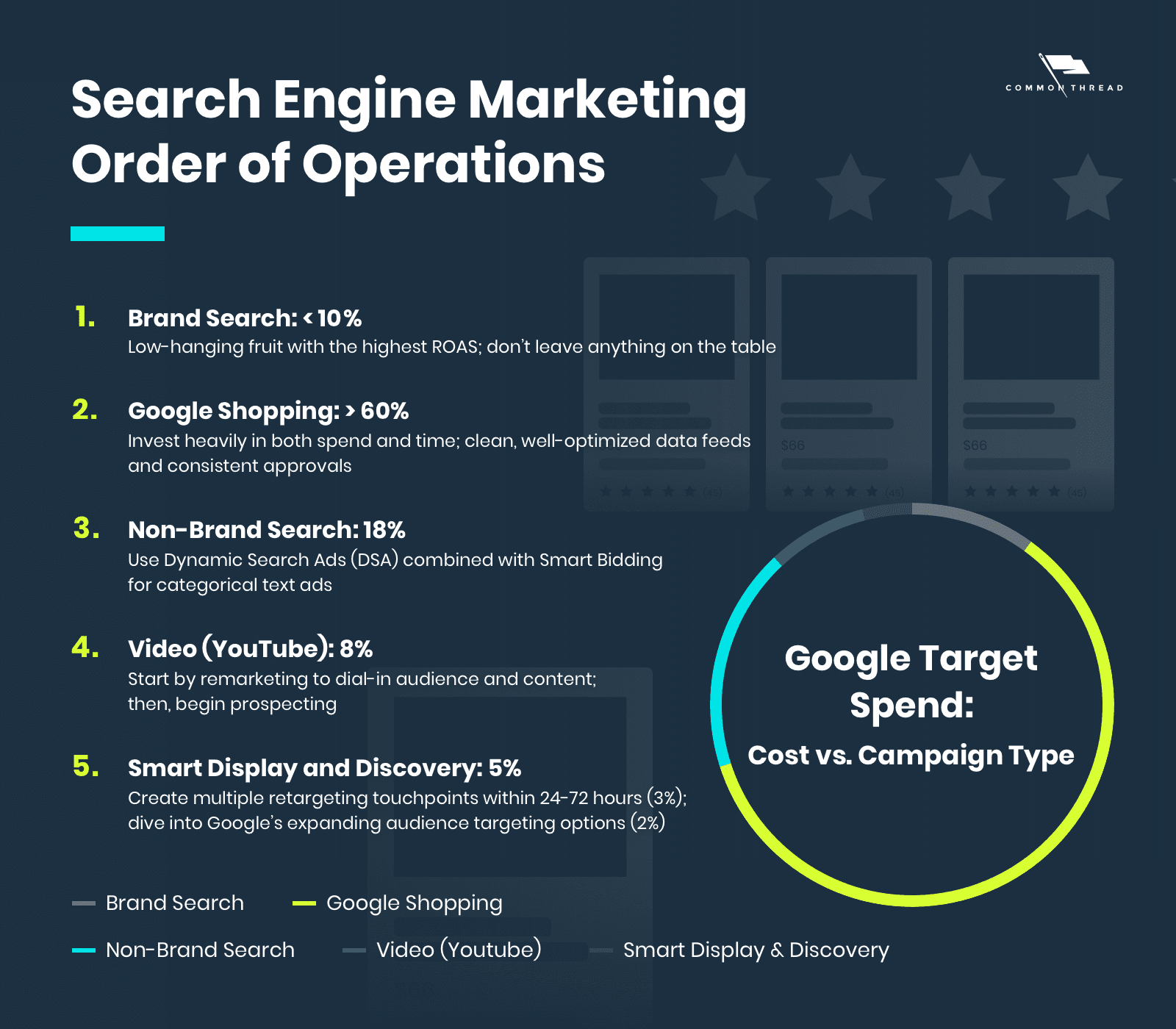 Solidify Conversion Rate with Consistency

The first hurdle remains the highest in food and beverage.
Introductory offers hook them, but consistent messaging and easy purchase flows ultimately lead to conversions.
Make sure introductory offers from paid search and social are mirrored on your website, and place best-selling products high on collection pages.
Taking a look at Boxed Water, we see how consistent messages gently guide customers into the purchase funnel. By promoting 10% offits first order via a banner, homepage slide, and across advertising channels, customers know the deal will be honored.
AccelerateLifetime Value with Subscriptions

The beauty of the food and beverage industry lies in consumption.
Customer lifetime value (LTV)is inherently higher in a market where a product's "lifetime" is only as long as it takes you to eat or drink it. Thus, lending itself well to subscription-based ecommerce models.
Subscriptions: Meals & More
Few categories benefited more from the shift to online buying than meal kits. Ironically, few have struggled more in its wake.
Breakout stars like Hello Fresh and Blue Apron rode high well into 2021, with the latter posting its second-highest stock value in Dec. since going public in 2017.
Into 2022, the decline of full-meal-deal packages has been swift, opening up opportunities for more recent entries and specialty CPGs. Home Chef, for instance, opens its onsite experience with two calls-to-action: "Pick Your Meals" or "Take Our Quiz."
Requiring no opt-in until after completion, Home Chef'squiz stands in stark contrast to Blue Apron and Hello Fresh's heavy-handed approaches. Both press visitors to create accounts and essentially begin building cartsimmediately after their first clicks.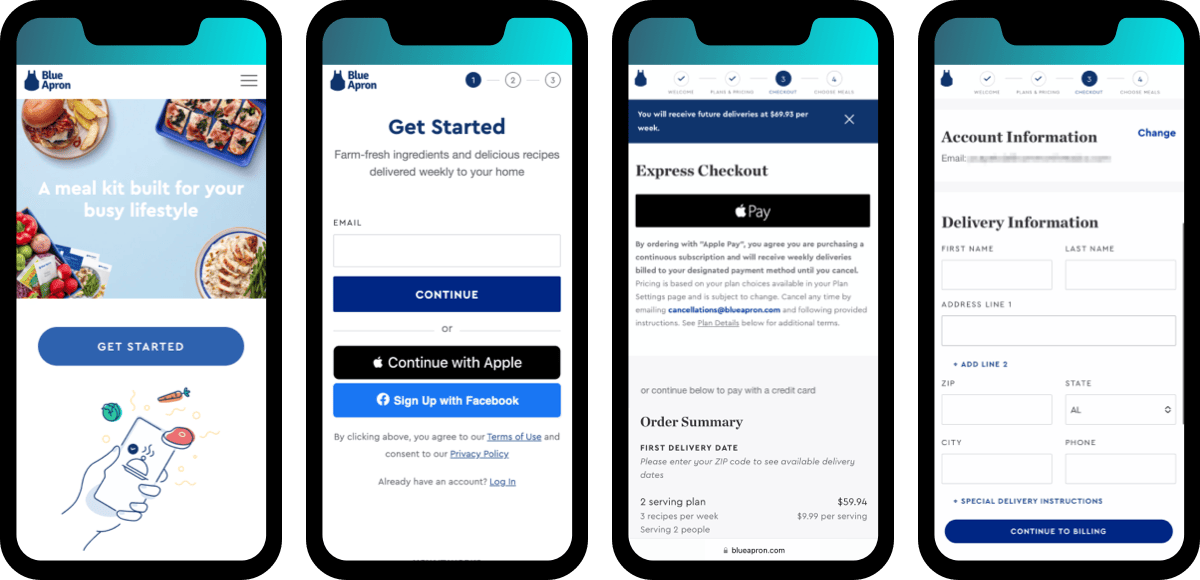 Drink LMNT boasts strong retention thanks to its subscription model. The option to subscribe is just as easy as a one-time purchase. Regardless of the channel, subscriptions remain front and center.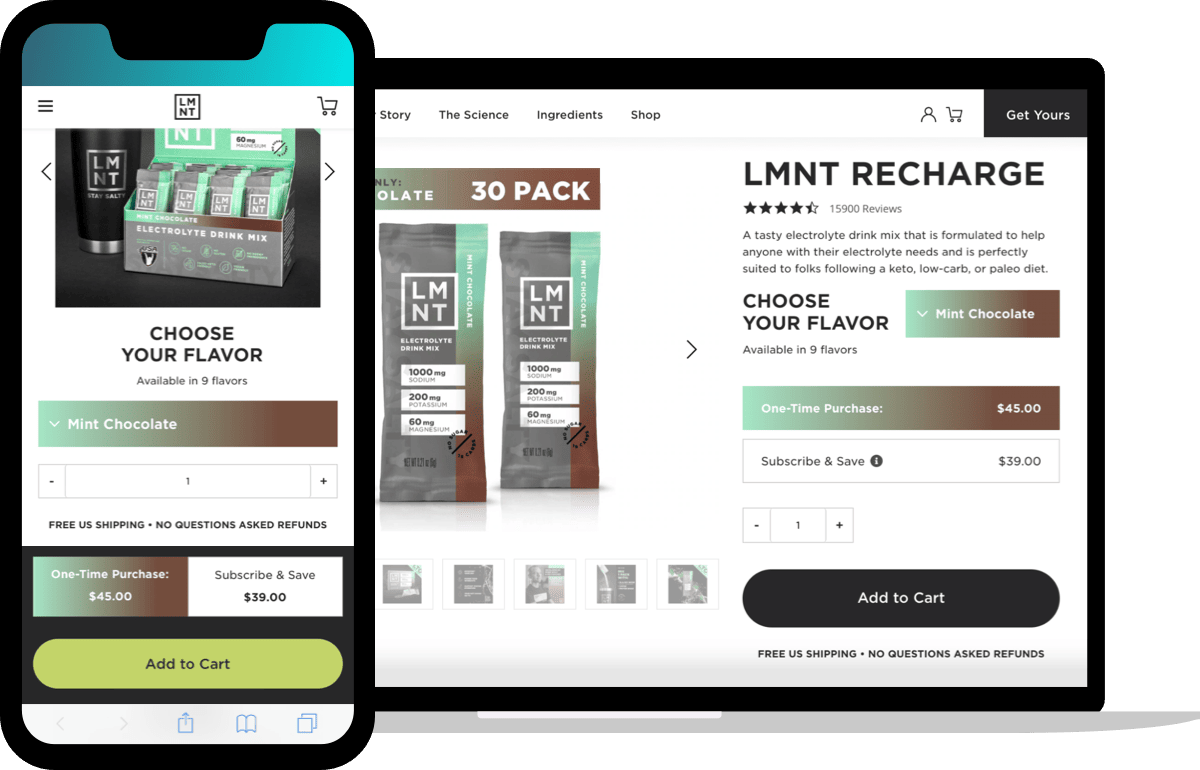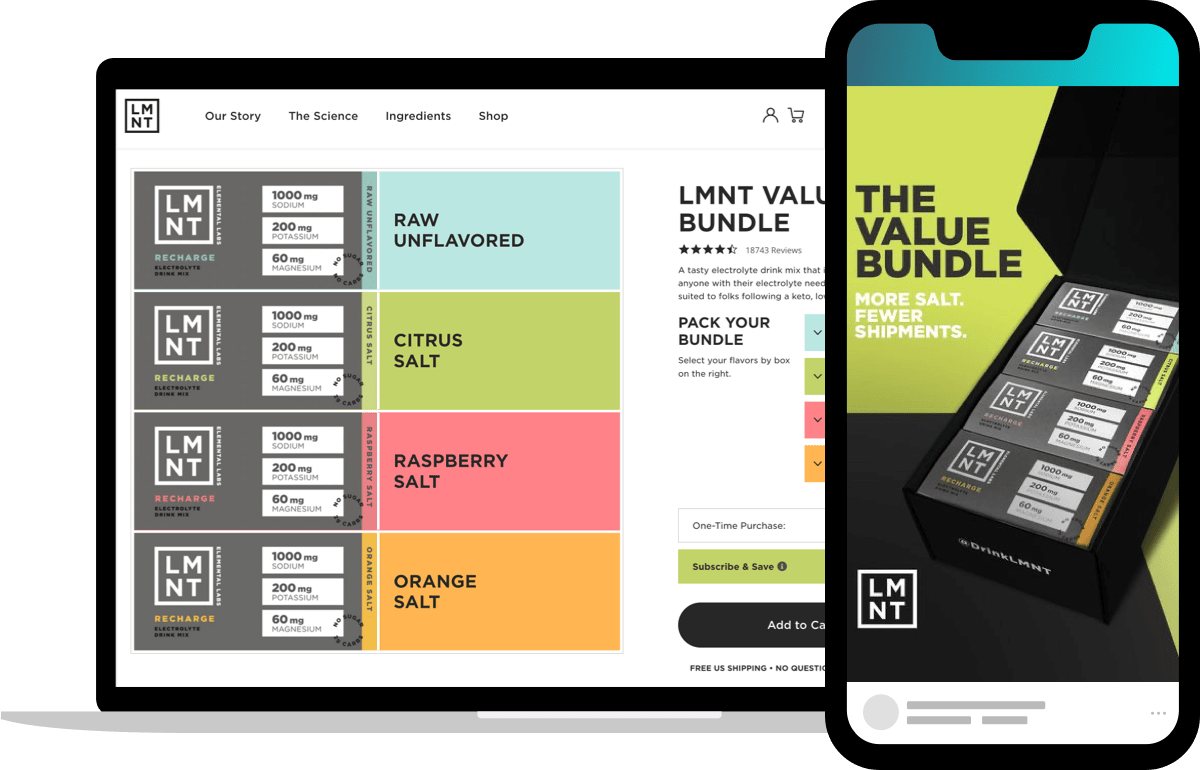 Lemon Perfect markets its subscription on the idea of making healthy drinking a habit.Shoppers can customize their subscription to their liking, choosing everything from frequency of delivery to flavor and quantity.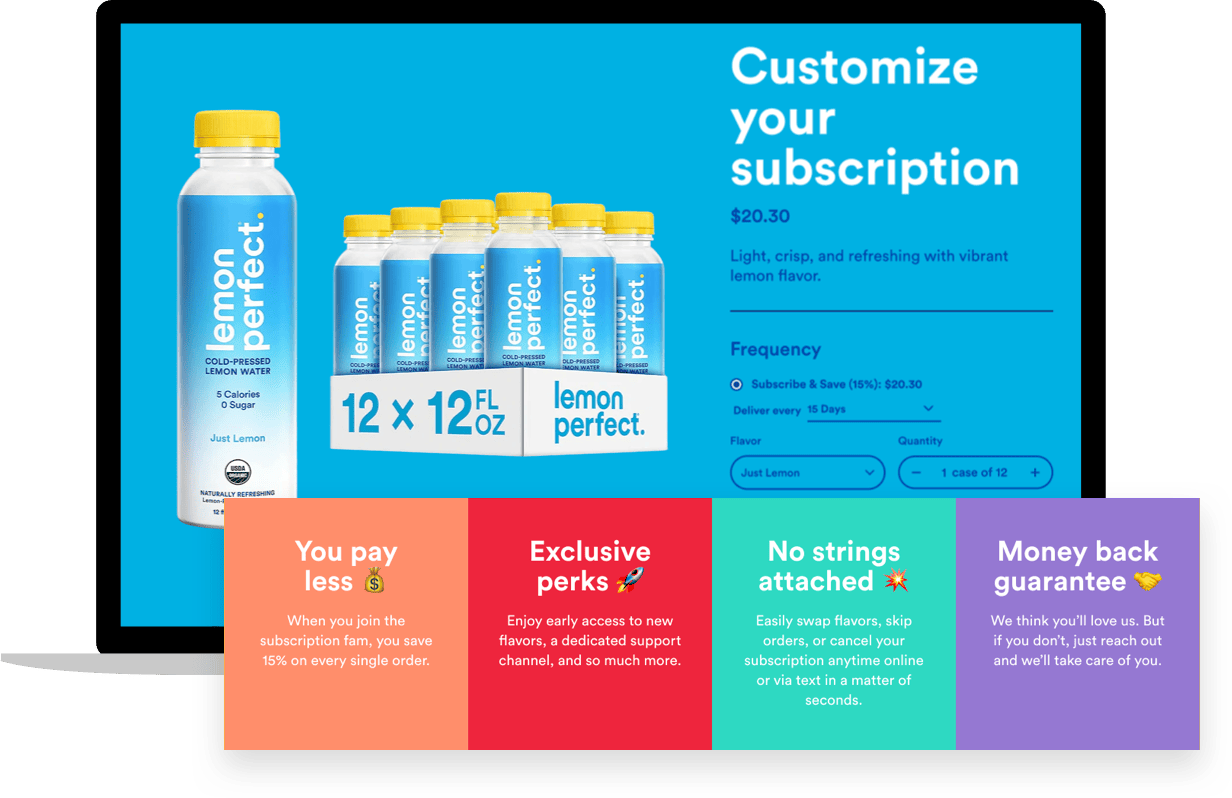 Successful subscription plans have a few totems in common: (1) subscribe to save; (2) cancel anytime; (3) access to customizations and customer support.
Email Marketing & SMS
The holy grail of LTV lies in email marketing and SMS. Food and beverage companies have a wide range of options for retention.
As in our guide to ecommerce email marketing, there are at least 13 automation types (flows) you should prioritize: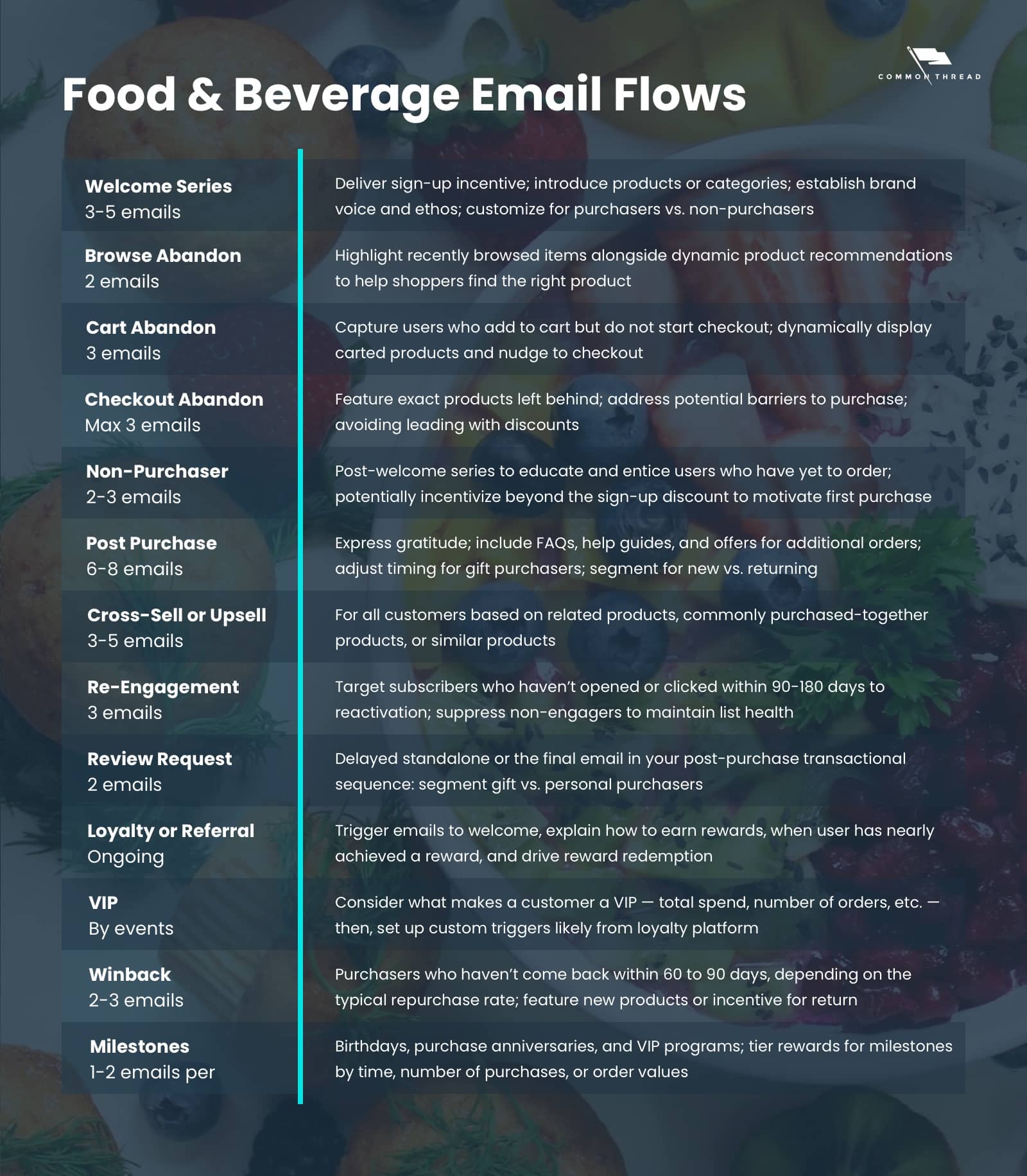 Let's examine a few examples from the highest priority automations…
WELCOME SERIES: 3-5 EMAILS OR SMS
Welcome new customers by delivering the sign-up incentive immediately.
Did you tell them they'd get a percentage-off coupon? Send it. Free shipping? Ship it. How about a content upgrade or an educational guide? Make sure it hits their inbox.
Once you've fulfilled the initial transaction, move on to showcase other products or categories. Round it out by showcasing your brand values.
Personalize the experience with custom content using segmentation or with dynamic blocks separating purchasers from non-purchasers.
Boobie Superfoods immediately brings it home with their SMS welcome message, email follow-up, and educational content upon sign-up.
(Video) Digital Printing is the future-WPO & RX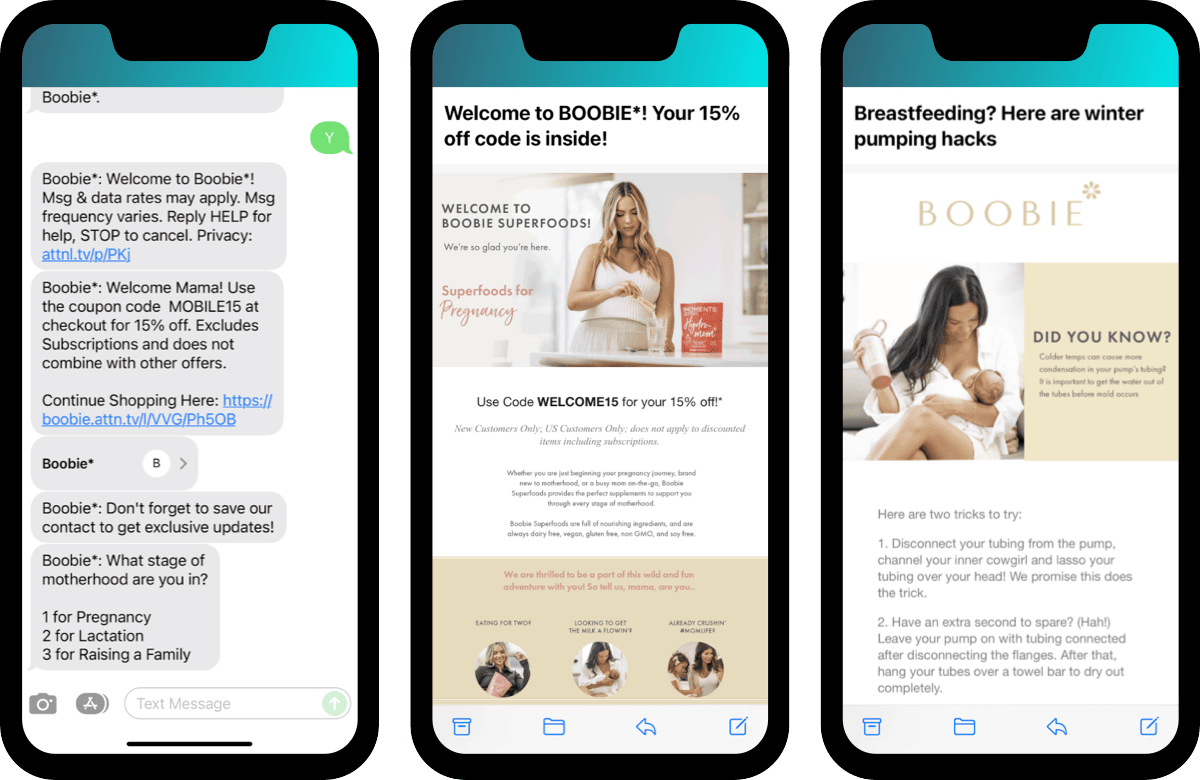 CART & CHECKOUT ABANDON: 3 EMAILS EACH
It's a painstaking task to understand why your customers abandon a cart or a checkout flow.
Likely, the reasons boil down to a few common issues:
They just got distracted and left the store
They need to do more research
They're not comfortable with the price
They saved to cart with the intention of buying later
They hit ablockerlike shipping cost, delivery time, etc.
To win them back, address as many of those issues as possible, getting as personal as you can with the information on hand.
Avoid offering discounts until absolutely necessary.
Thrive Market's follow-up emails addressfrequent questions that may have led to cart abandonment or registering an account. These emails highlight aspects ofits brand known to be importanttotarget customers.
To maintainitspremium position,the emails don't jump straight to discounting. Discounts only come near the end of the abandonment cycle.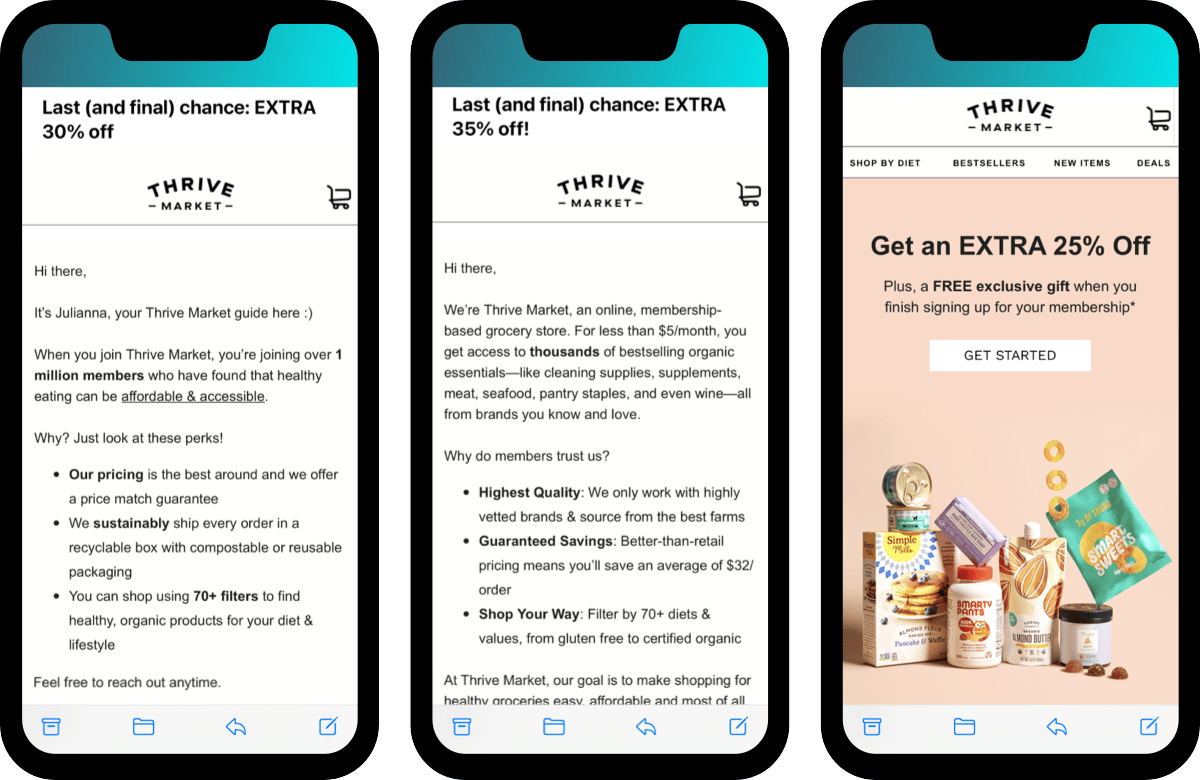 Focus on getting customers to convert without bombarding them with too many other products or distractions.
Simplicity wins in most circumstances.
CAMPAIGNS & SEASONAL EVENTS
Like the ecommerce ecosystem at large, seasonality brings huge opportunities for the food and beverage industry.
Engage your email list year-round with special campaigns for events and milestones. Focus on food and beverage-heavy seasonal events like New Year's Eve, Super Bowl parties, or holidays like Thanksgiving and Christmas.
Not to mention the usual Black Friday push.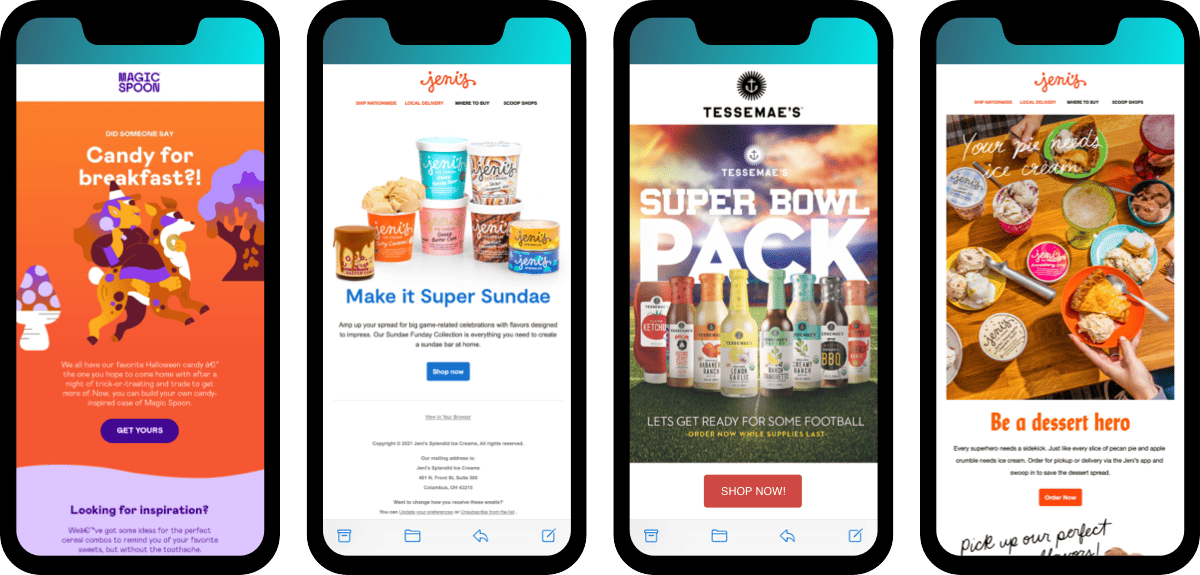 While you wait for these loyal customers to fall in line, stay practical by creating a plan to overcome the challenges and costs of DTC delivery — the last piece of our growth formula.
Count Your Variable Costs Carefully

The key challenge lies in balancing the expectation of quick and seamless delivery with the high price of executing that delivery.
Variable costs include facilitating the particularly fast delivery of perishable goods, solving the last mile problem, and reducing the high cost of flexible, same-or-two-day delivery.
Plus, cost of good sold (COGS) are higher for refrigerated consumables, so shipping gets expensive.
Do you charge more for shipping? Do you support free shipping? And how do all these costs factor into the four-quarter accounting principle?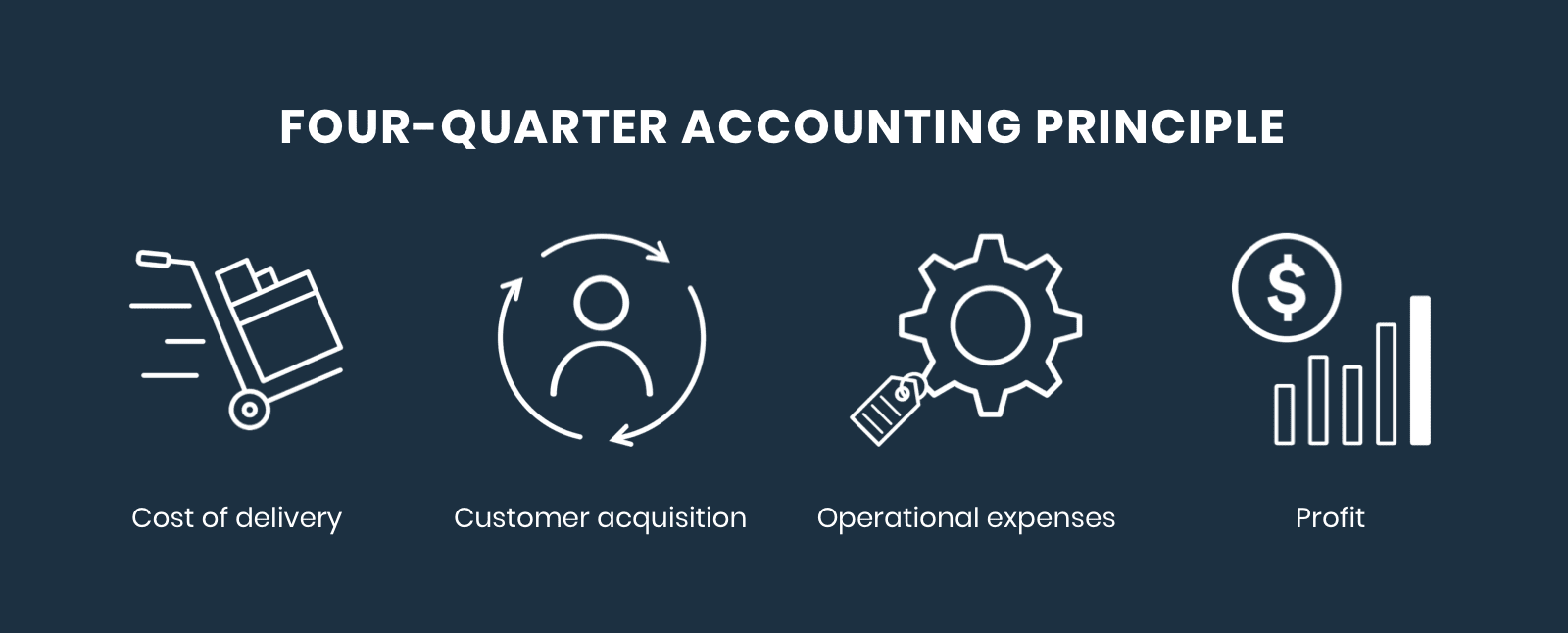 As the "four-quarters" implies, 25% of revenue should go to each category. Tipping the scales too far toward the cost of delivery (COD) throws off the entire balancing act.
Companies like Kaged and Imperfect Foods offer free shipping only after hitting a certain thresholds.
It's an objective way to settle the free shipping or not debate, and customers typically understand the motive. Bake it into your customer experience by using branded graphics and automation to encourage customers to hit the free shipping minimum.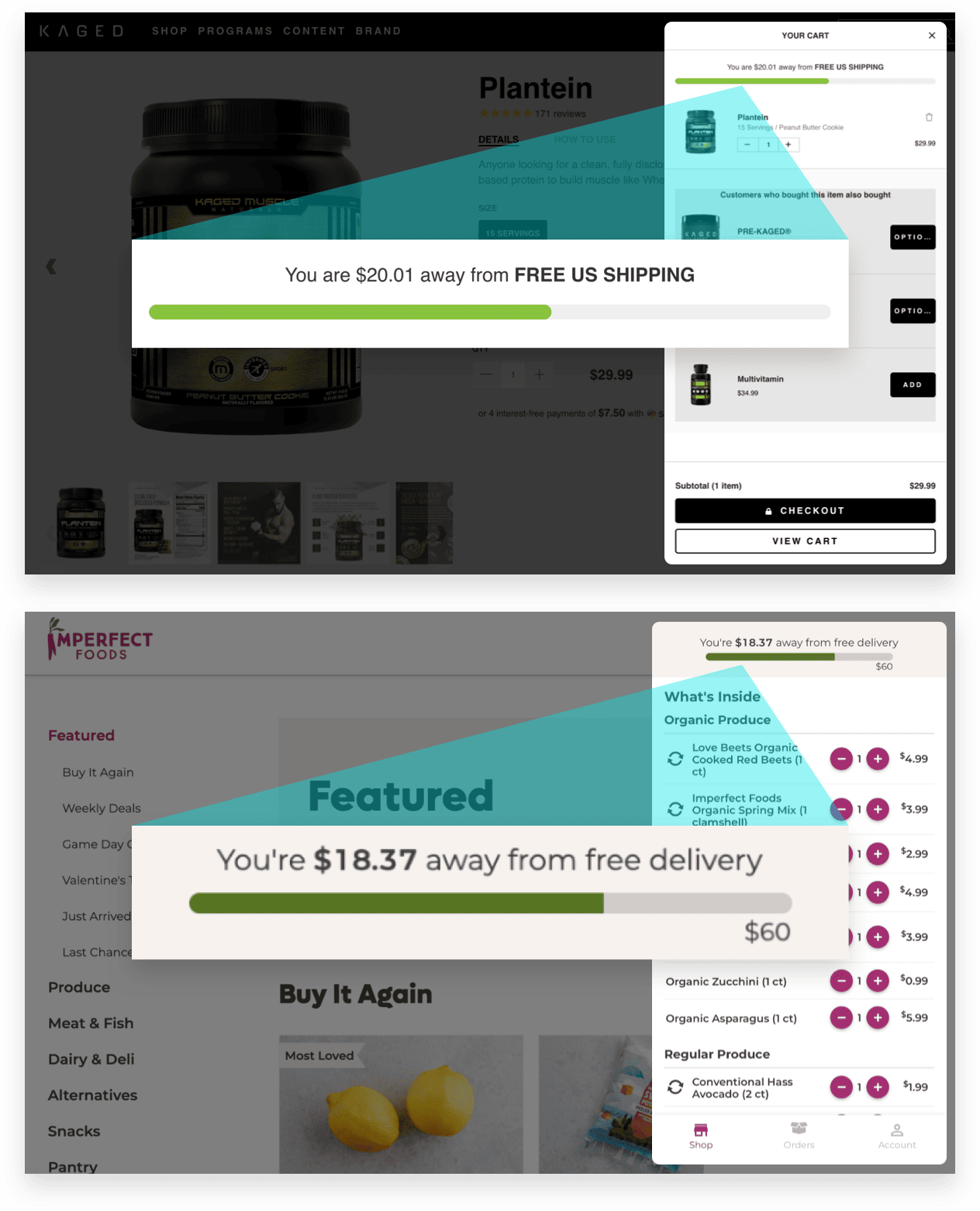 Imperfect Foods also relies on efficient packaging to ship more products with less hassle and cost. Tied to its mission, the brand explains to consumers that shipping with less packaging helps with environmental sustainability.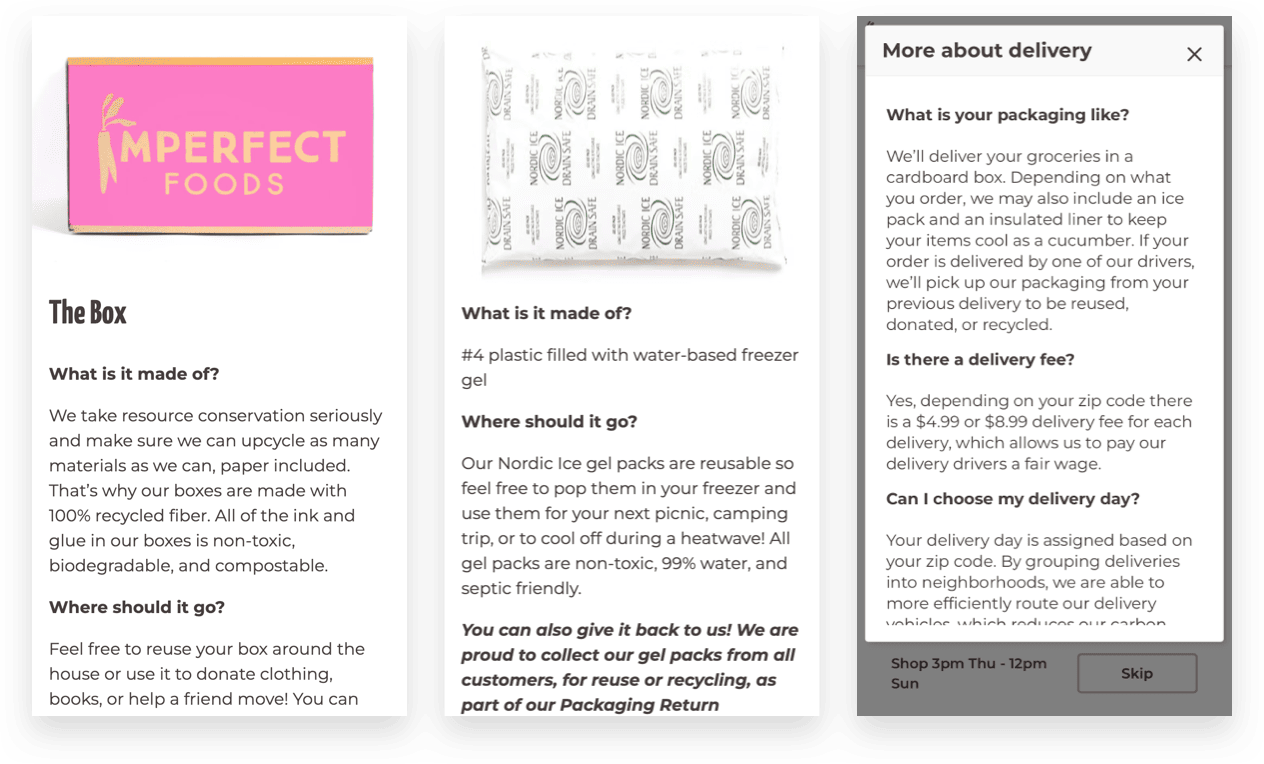 Another solution for handling logistics is to partner with local stores for distribution.
Territory Foods does this with great success,working with gym owners and small businesses within theareait serves. Territory also uses its minimal packaging and sustainability value propositions as key marketing messages, making the entire experience extremely customer-centric.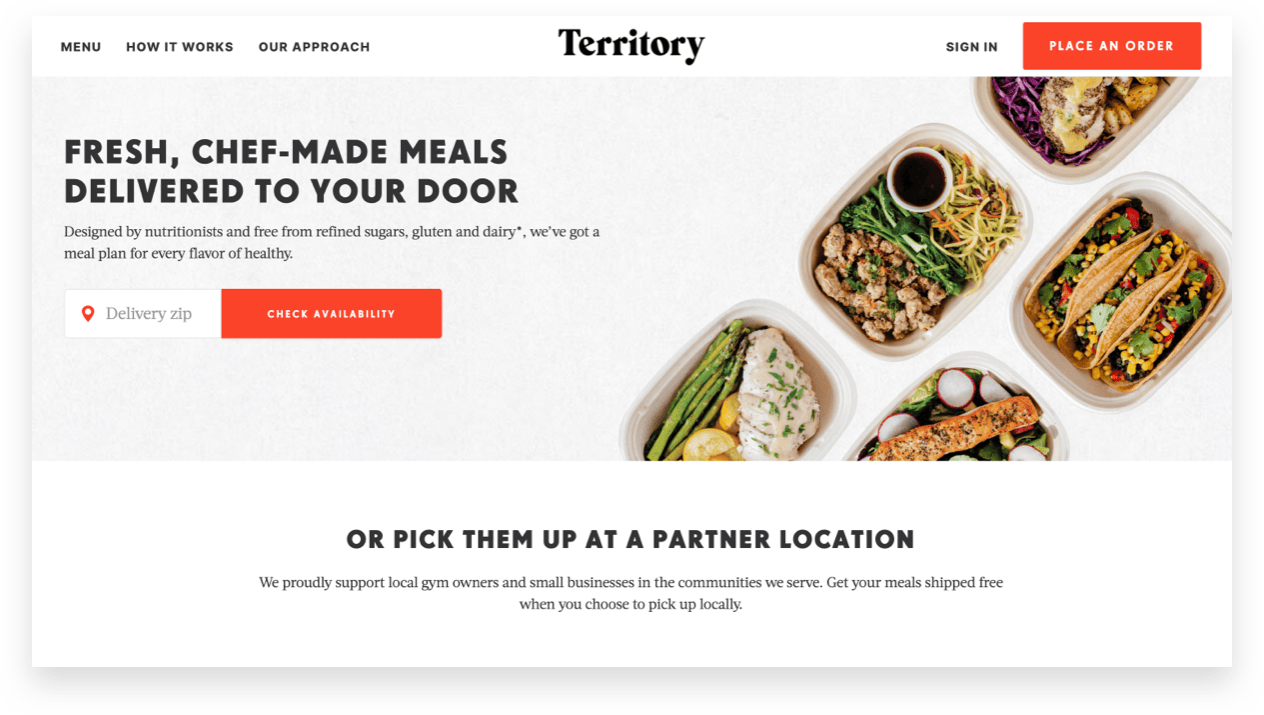 What Food & Beverage Trends Tell Us About DTC Growth
While the pandemic caused an unprecedented rise, it also created more competition and pushed brands to be more creative.
As the dust settles, consumers have become more comfortable with online shopping and at-home delivery. This opens the space for niche brands to enter people's homes who would have otherwise never considered buying food online.
The push towards sustainable and eco-conscious products holds strong. It's proven to be a compelling selling point in a competitive arena. Not to mention a worthwhile reason to charge more for your products.
Although, don't expect customers to sacrifice convenience for a strong mission statement — you'll need to provide both.
Nonetheless, opportunities abound, and DTC food and beverage companies are poised to excel in a brand-heavy, mission-oriented, post-pandemic world.
Aaron is the VP of Marketing at CTC. Previously the Editor in Chief of Shopify Plus, his content has appeared on Forbes, Mashable, Entrepreneur, Business Insider, The New York Times, and more. Connect with Aaron on Twitter or LinkedIn (especially if you want to talk about bunnies or #LetsGetRejected).
(Video) HNGRY Plate + Pantry 3.0: Innovations in Food & Beverage (1/2)
FAQs
The food and beverage industry includes restaurants, cafeterias, cafés, fast-food joints, pubs, delis, food manufacturing operations, catering businesses, food transportation services, and more. Work in this industry can range from packaging to preparing, transporting, and serving food or beverages.
The Food and Beverage sector (F&B) is the largest segment of the hospitality industry. This category can include everything from a star restaurant and various types of catering services to bars and food and beverage service providers for hotel, resorts, airlines, and so on.
F&B Services – Definition

Food and Beverage Services can be broadly defined as the process of preparing, presenting and serving of food and beverages to the customers. On Premise − Food is delivered where it is prepared. The customer visits the premise to avail the food service.
Food and beverage is an integral part of the guest experience at an entertainment, leisure or restaurant venue. Offering various types of food and beverage within your entertainment center not only improves the customer experience but allows you, as a business owner, to create more revenue streams for your company.
The food and beverage service industry is different from other industries in satisfying the needs of customers. It satisfies one of the most important physiological needs of the consumers, that is, hunger and thirst.
Asia Pacific was the largest region in the food and beverages market in 2021. Western Europe was the second-largest region of the F&B market. The regions covered in the food and beverages market report are Asia-Pacific, Western Europe, Eastern Europe, North America, South America, Middle East and Africa.
Latest food and beverage market forecasts: The global food and beverage market size is expected to grow from $5.8 trillion in 2021 to $6.4 trillion in 2022 at a growth rate of 9.7%. The food and beverage market size is expected to grow to $8.9 trillion in 2026 at a compound annual growth rate of 8.7%.
Consumption of local food and drinks brings visitors closer to the unique and authentic spirit of the host culture. Therefore, one of destinations' main goals is to make local food and beverage products part of the tourism experience (Telfer & Hashimoto, 2002).
Commercial and non-commercial are two types of food and beverage service operations.
POS stands for Point Of Sale, a system that is used throughout the restaurant and retail industry. This computerized system allows business owners to track sales, cash flow, food inventory and can help simplify your bookkeeping enormously.
With food hygiene, you know how to store and arrange food accordingly. This helps in maintaining better food quality, reduces food waste, and saves you money and time. If you work following food and sanitation practices, then the restaurant will have a better flow and run smoothly.
Inflation brings food and beverage consumption back in line

On a nominal basis, consumer spending increased 6% over the prior year through the second quarter of 2022, while real spending—which is adjusted for inflation—dipped 5%, falling back in line with pre-pandemic growth trends.
Key factors that are driving the U.S. packaged food market growth include hectic work schedules, changing lifestyles, rising preference for convenience, escalating expansion of e-commerce, and increasing product innovations across the country.
The beverage industry is growing at a compound annual growth rate of 1.7%. The global beverage industry is expected to grow at a CAGR of 1.7% between 2021 and 2026. At this rate, the market will be valued at more than $1.691 billion by the end of 2026.
That's right, the financial industry is the largest industry in the world! Totalling $109 trillion, it dwarfs the competition. ¹ For comparison, real estate is worth $33 trillion and retail amounts to $26 trillion.
The total FDI inflow in the food processing sector during last 5 years ending 2021-22 is USD 3.54 billion.
The 2022 beverage industry trends include:

Innovative alcohol flavors and mocktails. Hybrid beverages. Various coffee formats. Plant-based and dairy-free alternatives.
There is no lack of retailers partnering with meal kit companies, recipe sites, chefs, and brands with gourmet and diet-focusing features. It is predicted to be a leading future trend in food and beverage industry.
An increasing global population will have a greater demand for food in 2030. At the same time, greater differentiation will be required due to an aging population and individualisation. Innovation is needed to meet this demand. Good behaviour in the form of sustainability is also an important aspect for food.
As competition in the restaurant industry warms up, it becomes more and more important for independent restaurants to be up-to-date with new food trends. These new trends help restaurants keep their customers and attract new ones.
Food tourism can play a significant role in preserving local heritage while building on existing tourism assets and driving innovation. By increasing visitor demand for local food and drink, food tourism contributes to the long-term sustainability of local agriculture, food systems, communities, and culture.
There are basically four types of food service systems—conventional, commissary, ready prepared and assembly/serve.
The major aims of the food industry today are:

To extend the period during which a food remains wholesome (the shelf life) by preservation techniques which inhibit microbiological or biochemical changes and thus allow time for distribution, sales and home storage.
This attribute of food and beverage staff is most important for the service staff as they are constantly handling food and beverage, and often go near the guests. No guests will patronize a restaurant if the food and drinks are handled by the staff who are unhygienic or with bad breath and body odor.
The food and beverage service industry is different from other industries in satisfying the needs of customers. It satisfies one of the most important physiological needs of the consumers, that is, hunger and thirst.
The main aim of food and beverage operations is to achieve customer satisfaction. In other words, to meet the customers' needs.
There are many different types of food and beverage service types or procedures, but the major category of the food service is 1) Plate Service, 2) Cart Service, 3) Plater Service, 4) Buffet Service and 5) Family style service.
The food service industry encompasses all of the activities, services, and business functions involved in preparing and serving food to people eating away from home. This includes all types of restaurants from fine dining to fast food.
It includes such areas as the raising of crops and livestock, manufacture of farm equipment and agrochemicals, food processing, packaging and labeling, storage, distribution, regulatory frameworks, financing, marketing, retailing, catering, research and development, and education.
The food services industry includes: cafes. restaurants.
Consumption of local food and drinks brings visitors closer to the unique and authentic spirit of the host culture. Therefore, one of destinations' main goals is to make local food and beverage products part of the tourism experience (Telfer & Hashimoto, 2002).
Commercial and non-commercial are two types of food and beverage service operations.
The industry is engaged in both primary and subsequent processing of agricultural products. In some sectors of the food industry, domestic producers find it hard to compete with the giants of world production. Food production provides jobs for hundreds of thousands of people across the country.
As we know, food is our primary need. We can resist from buying new clothes, but it will be hard to resist hunger. This is why food business is one of the most profitable business in the world. Compared to other sectors such as retail and fashion, the food and beverage industry is rising in popularity.
The Rise of Plant-Based

Plant-based diets have increased 300% for Americans in the last 15 years, and global retail sales of plant-based food alternatives may reach $162 billion by 2030 — up from $29.4 billion in 2020. If so, the projected plant-based food market would make up 7.7% of the global protein market.
The food industry encompasses all aspects of food production: manufacturing, distribution, marketing, retail, regulation, and consumption.
The three options that have been used for increasing food production are (i) agro-chemical based agriculture (ii) organic agriculture; and (iii) genetically engineered crop-based agriculture.
Dishwashers, kitchen helpers, line cooks, sous-chefs, chefs, pastry chefs, executive chefs, bakers and butchers. This role provides unique insights into the functioning of a professional kitchen. Line cooks have to work efficiently and independently, organizing, preparing and assembling hot and cold food.
The nature of business is a statement about a company's offering to its clients, its industry, legal structure, or any other distinctive qualities of the business. For example, if you say a company in the "private sector", you evaluate the nature of the company based on its nature to earn profits.